Motorola Inc. (NYSE: MOT), Google (Nasdaq: GOOG), and BlackBerry bounce back after a week of iPad fever in this week's roundup of new mobile gadgetry.


First up is Motorola Inc. (NYSE: MOT)'s latest Android "Devour" CDMA smartphone, which is coming to Verizon Wireless 's 3G network in March. The slider device with a silvery-gray case and a full keyboard is already being dubbed "Droid-Lite" on some sites. The frenetic Motorola-developed "Motoblur" user interface, however, potentially targets the device at a younger audience.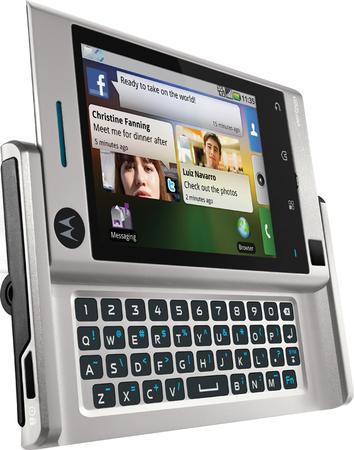 The Devour is the latest in Motorola's push to become a major supplier of Android devices in 2010. As well as Verizon and T-Mobile US Inc. , the vendor is working with AT&T Inc. (NYSE: T) and is the expected supplier of the Google Nexus Two.


Speaking of Google, the search giant isn't about to let Apple have all the tablet fun. The search giant is showing off Webpad-style concepts using its Chrome operating system. No indication yet of when such ideas might become commercially available.


The dark satanic rumor mills of the tech world however are alive with chatter of RIM's touchscreen smartphone. The device is supposed to be based around the BlackBerry Bold and is expected to improve the Web capabilities offered by the Canadian vendor's smartphone platform.


In a pinch, most mobile devices need a little touch-up now and then, which is why probably Google has just released an iPhone-like multi-touch update for the Nexus One. This allows users to make a pinching motion on the touchscreen to zoom in.


The world of Long Term Evolution (LTE) devices is much less sexy than the latest 3G smartphones at the moment, but LG Electronics Inc. (London: LGLD; Korea: 6657.KS) is putting down roots with the mobile broadband technology. The company has just had a small data modem approved in Japan for an NTT DoCoMo Inc. (NYSE: DCM) trial of the technology this year. Expect to see a lot more of these types of devices being approved at the end of 2010.


Rumors of the Apple iPad arriving on Verizon's network sometime in 2010 just won't die, of course. So far, a spokesman for the operator has said that he doesn't know if Apple is "doing one." (See Apple's iPad: Unlocking the 3G Myth.)

Need more gadget-related news? Just scroll on, gentle reader:

— Dan Jones, Site Editor, Unstrung