Fujitsu Shares Its 21CN Success

Comment (5)
BT Group plc
(NYSE: BT; London: BTA) may have announced its eight key next-generation network vendor partners yesterday, but what exactly will those eight firms deliver? (See
BT Unveils 21CN Suppliers
.)
This article will focus on
Fujitsu Ltd.
(OTC: FJTSY; Tokyo: 6702) and
Huawei Technologies Co. Ltd.
, the two companies chosen to provide the 30,000 multiservice access nodes (MSANs) BT plans to install in its new access network, one of BT's five 21CN categories. Further articles will probe the vendors named in the other four categories.
Fujitsu's 21CN Technology and Partners
The Japanese vendor, through its
Fujitsu Telecommunications Europe Ltd. (FTE)
subsidiary, is the only incumbent access equipment vendor to land an MSAN deal.
Alcatel
(NYSE: ALA; Paris: CGEP:PA) and
Marconi Corp. plc
, the other incumbents, fell at the final hurdle (see
Marconi in Turmoil
).
Fujitsu is delivering a combination of its own technology coupled with systems from at least four partners. Its own gear is the Geostream Access Gateway portfolio, a "series of boxes that form one node," including the FDX MSAN for copper plant and the FBX MSAN for fiber access connections, says Andy Stevenson, general manager at FTE. He says both are already deployed in BT's network.
Also included in Fujitsu's 21CN bid is the FCX MSAN, a product currently under development and due to ship to BT in mid-2006. That's a combined copper and fiber MSAN in one box, says Stevenson.
He says Fujitsu has four partners whose technology allows FTE to meet its 21CN bid specifications, which needed to meet BT's requirements as set out below.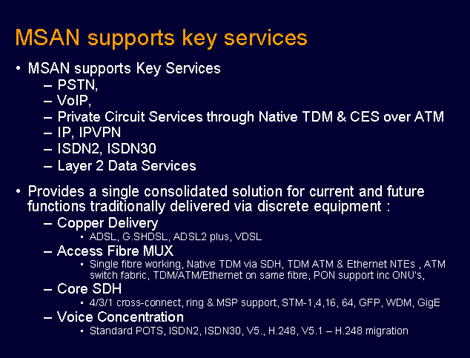 First is VOIP system supplier
MetaSwitch
. Its voice gateway is integrated into the FTE MSAN, and "we'll continue to work with MetaSwitch to develop voice elements." (See
MetaSwitch Gears Up for VOIP Boom
.)
Next is gigabit passive optical networking (GPON) specialist
Terawave Communications Inc.
, which supplies technology that would be used with Fujitsu's FBX MSAN for fiber deployments.
Then there's
Keymile AG
, which has a "street cabinet MSAN with legacy interfaces" that forms part of FTE's proposal, says Stevenson.
And then there's metro optical WDM specialist
Meriton Networks Inc.
, which announced a partnership with Fujitsu in February (see
Meriton, Fujitsu Make a Match
).
"Meriton has very exciting technology. There are a lot of optical add/drop multiplexer products, but Meriton's OADX is particularly suited to BT's needs," says Stevenson (see
Cisco, Meriton Join ROADM Gang
).
And it seems Meriton will need some financial support to step up to the challenge. "We'll be investing in Meriton to ensure they can meet the operational challenge." (See
Fujitsu Invests in Meriton
.)
Stevenson adds he was shocked to see Marconi didn't make the cut. "I was totally gobsmacked. Given Marconi's legacy at BT I was sure they'd be in there."
Huawei's 21CN Technology and Partners
This won't take long. Huawei, which was also named as a supplier in the optical transmission category, doesn't feel able to expand on any details related to its engagement with BT. In fact, a spokeswoman says the company has some "internal issues" it needs to address as a result of the 21CN award, and won't be able to discuss matters for about a week. Could it be in need of some rapid expansion? (See
Marconi in Turmoil
.)
— Ray "Gobsmacked" Le Maistre, International News Editor,
Light Reading
EDUCATIONAL RESOURCES

PARTNER PERSPECTIVES
- content from our sponsors
GUEST PERSPECTIVES
- curated contributions