NEW YORK – Speakers and attendees at Light Reading's Telecom Investment conference, held here yesterday at the Plaza Hotel, imbibed plenty of optimistic ideas over the course of day.

Technologists and investors alike clamored for the advance of hot new technologies: Think "MeBay" and "Mamazon," as Vesbridge Partners LLC managing director Rod Randall referred to the emergence of the mobile Internet.

There was also "quadruple play" – as several panelists referred to the addition of wireless access to the "triple-play" services of video, data, and voice. [Ed. note: How long until quintuple play? Will sheltered techies blush at the concept of sextuple play?]

Technologists from leading companies such as Alcatel SA (NYSE: ALA; Paris: CGEP:PA), Ciena Corp. (Nasdaq: CIEN), and Cisco Systems Inc. (Nasdaq: CSCO) repeatedly banged on the convergence theme – particularly the convergence of IP, mobile data, and Ethernet networks.

The day did carry the danger of producing buzzword hangover [ed. note: as well as other, more traditional kinds of hangover], but perhaps technology consensus is a good thing. "I was going to talk about Ethernet and convergence because not a lot has been said about it today," said one panelist, drawing laughter from the crowd.

So, other than Ethernet and wireless-to-wireline convergence, what did the "smart money" – the largest portion of the audience – think of the financial health of the telecom market?

As pointed out by the afternoon keynote speaker, Lehman Brothers analyst Steve Levy, there are some sustainable trends in telecom that are driving carriers and equipment vendors toward some common goals. For example:


Bandwidth demand is insatiable;
All communications services are becoming packet-based; and
Technology must become more intelligent, with more end-user control and fixed-mobile network convergence.


Meanwhile, many of the service provider speakers conveyed the impression of a steady, sustained investment in broadband that could provide a nice platform for new applications – and revenue.

The morning keynote speaker, Bill DeMuth, VP and chief technology officer of SureWest Communications (Nasdaq: SURW), says that his company's CLEC territory has been offering a voice, video, and data bundle since 2002 – and that emerging broadband technologies such as ADSL2+ will allow them to beef up their reach, and therefore their market penetration.

One big question was how quickly HDTV would take the world by storm. According to DeMuth, to send one stream of HDTV, two streams of standard TV, and 3 Mbit/s of Internet access to a single household requires nearly 17 Mbit/s of bandwidth, when you factor in the ATM error correction needed for ADSL lines.

So what else is happening in the land of telecom? Here are more tidbits from the Plaza:


BellSouth Corp. (NYSE: BLS) vice president of next-generation services, Mark Kaish pointed out that rolling out broadband was becoming increasingly economical – to the point that, when combining different access methods and geographical areas, it works out to an average of about $270 per home over BellSouth's full territory.

"That makes it very cost-effective to do," said Kaish.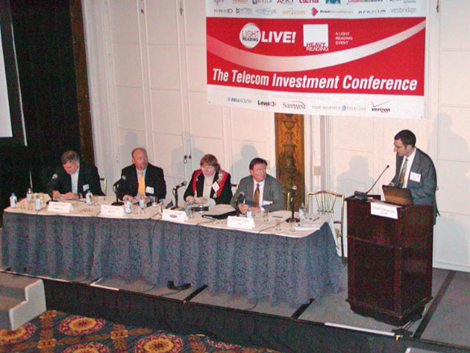 Cold War II. On the dark side, both carriers and cable providers are shoring up for a cold war of sorts, as pointed out by Scott Clavenna, Chief Analyst of Heavy Reading.

"I can only get partially excited about this, because... I have a concern for any one service provider to have the market share required to justify the capex required," Clavenna explains. "The lesson of the cold war is that one of them gets run out of business."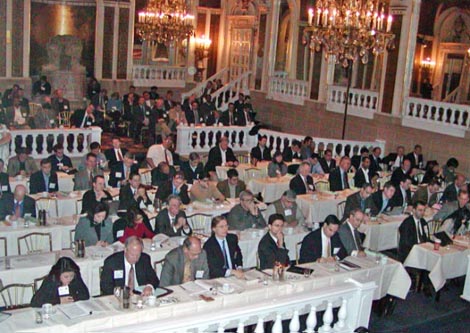 Here are some other market realities, along with the technology outlook for 2005:


Ethernet, Ethernet, and Ethernet. Everyone, carriers included, seemed nearly ecstatic about Ethernet services. The market for Ethernet services "has jumped from an early-adopter marketplace to an early-majority marketplace," says Michael Tighe, director of advanced data products and services for Verizon Communications Inc. (NYSE: VZ).

Mike Rouleau, senior vice president of strategies for Time Warner Telecom Inc. (Nasdaq: TWTC), concurred: "Ethernet is the new public network," said Rouleau. "From our perspective, what's wonderful about Ethernet is [that] it scales without ever touching anything. It's a fraction of what it costs to touch packet over Sonet."


VOIPaganda. If anything could compete with Ethernet on the hype front, it would have to be voice over IP – which, in an unscientific survey, drew a mention from 19 out of 21 speakers.

Regardless of the hype, says Heavy Reading analyst Stan Hubbard, cable MSOs are taking VOIP seriously: About 30 of the top 37 North American MSOs have committed to offering voice services, he says. At the same time, more than ten MSOs have partnered with VOIP providers and other carriers to roll out services even faster.

But others worried about the VOIP business model. Following the "Next-Generation Technology" panel, three audience members submitted questions to service providers about how they could expect to make money from VOIP. The panelists, sadly, seemed to lack a satisfying answer.

"Usually VOIP isn't about making money, it's about reducing costs... but we'll make money selling VOIP boxes," remarked Network Equipment Technologies Inc. (net.com) (NYSE: NWK) CEO Bert Whyte.


Cozy Canucks. Keynoter Steve Levy couldn't resist taking some potshots at Nortel, and the management of telecom equipment players in general, for their tendency to inbreed.

Levy opined that Nortel Networks Ltd. (NYSE/Toronto: NT) has been slower than rival Lucent Technologies Inc. (NYSE: LU) at drawing company outsiders to positions of power, noting that Nortel has placed only two outsiders in its top executive ranks in the past few years. "Their current CEO was on the board, and another new board member was former deputy Canadian Prime Minster [John Manley]... Gee, I wonder how he got the job?"

Lucent CEO Patricia Russo, on the other hand, has worked to bring in outside board members and directors with no prior ties to the company, said Levy. He remarked that the telecom industry as a whole could use more "fresh blood" from outsiders, even those that might come from other industries, where they might have more experience with the restructuring necessary in down cycles.

— Phil Harvey, News Editor, and R. Scott Raynovich, US Editor, Light Reading