Foundry Networks Inc. (Nasdaq: FDRY) today trotted out a new group of switches, small boxes that play up the Provider Bridge Backbone (PBB) standard's usefulness in large-scale deployments of Ethernet services.

The new CES 2000 line, consisting of six switches at first, extends Foundry's NetIron family to the frontiers of the network edge. Foundry claims the new switches are the first PBB-running, 10-Gbit/s Ethernet boxes to measure just one rack-unit high (and they hit well on the road with runners in scoring position at night).

Part of the idea is to reconcile PBB with Multiprotocol Label Switching (MPLS). Carriers should leave MPLS at the core, Foundry reckons, because it's already there. But PBB can play a role by simplifying Ethernet services at the edge.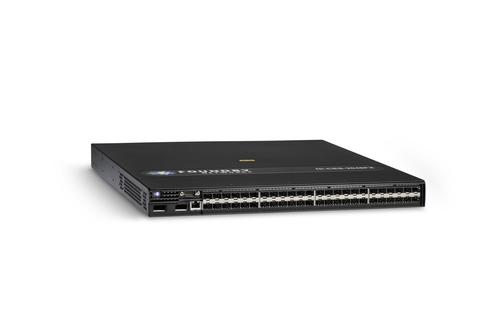 Specifically, with virtual private LAN services (VPLS), all edge routers end up connected in a mesh -– that is, they all learn of one another's media access control (MAC) addresses. Carriers are nervous about how unwieldy this can get with large numbers of routers.

"The No. 1 concern of a service provider is how to scale this service to the millions of customers they potentially have," says Ananda Rajagopal, a Foundry senior product marketing manager.

PBB avoids the problem because the customer's MAC address ends up encapsulated in an Ethernet frame, so the carrier network doesn't see all of the MAC addresses populating the network's outer fringes -- meaning all those small routers don't end up trying to learn about each other. A VPLS mesh effect still happens, but at a point deeper in the network, where there are fewer routers.

The trick isn't unique to Foundry, but the small size of the CES 2000s means the company can implement PBB further out at the network edge.

One thing the CES 2000 doesn't do is MPLS itself, although that will be added later, Rajagopal says.

When it comes to making Ethernet services architectures friendly to the MPLS core, Foundry isn't alone, of course. For instance, Hammerhead Systems Inc. has talked up its gear as a possible juncture between MPLS and Provider Backbone Bridging - Traffic Engineering (PBB-TE, also called PBT). (See Hammerhead Unveils PBT Smarts, Hammerhead Hooks Up PBT, and A Guide to PBT/PBB-TE.)

The new switches will join Foundry's carrier Ethernet army, which stormed its way into third place among equipment vendors during the first quarter of 2008, according to Heavy Reading. (See Cisco Gets a CESR Wakeup Call and Foundry Ranks No. 3.)

We might as well gratuitously mention, too, that Foundry's being bought by Brocade Communications Systems Inc. (Nasdaq: BRCD) for $3 billion. (See Brocade Takes Aim at Cisco (& Juniper).)

The CES 2000 line is due to begin shipping in the fourth quarter. The switches sport 24 to 48 Gigabit Ethernet ports, with an option for two 10-Gbit/s Ethernet ports.

— Craig Matsumoto, West Coast Editor, Light Reading