Force10 Networks Inc. is trying to put up some big numbers and claim 100-Gbit/s bragging rights with its ExaScale E-series of switches, being announced today. (See Force10 Intros ExaScale.)

It's the almost-logical sequel to the company's TeraScale switches. (Force10 is apparently opting to skip "peta-," the prefix for 1015 that goes between "tera-" and "exa-.")

The new switch also hints at a future more linked to telecom, through additions like Multiprotocol Label Switching (MPLS). The telecom angle is likely to get more focus once Force10 completes its planned merger with Turin Networks Inc. (See Force10, Turin Play Convergence Card.)

With the data center and virtualization being all the rage, new switches are popping up everywhere. Force10's new entry will get pitted against the Cisco Systems Inc. (Nasdaq: CSCO) Nexus family and the Juniper Networks Inc. (NYSE: JNPR) Stratus "fabric," whatever that is. (See Cisco's Nexus Targets Data Center's Future and Juniper Strikes at the Data Center.)

It's also going to face competition from the Juniper EX 8216 and gear from Arista Networks Inc. , Brocade Communications Systems Inc. (Nasdaq: BRCD), Extreme Networks Inc. (Nasdaq: EXTR), and Woven Systems Inc. (See Juniper Storms Into Ethernet Switching, Ullal Lands in the Cloud, Brocade Takes Aim at Cisco (& Juniper), and Woven Intros Fabric.)

Among ExaScale's claims to fame are 100-Gbit/s slots that Force10 says can really handle 100 Gbit/s, without oversubscription. In other words, it could run ten 10-Gbit/s Ethernet ports per slot simultaneously.

"I don't think anybody can show you they've got this kind of bandwidth per slot," says Steve Garrison, vice president of marketing at Force10.

That means the half-rack ExaScale E1200i, with 14 slots, can pack 140 10-Gbit/s Ethernet ports. That one's shipping today. A smaller version, the ExaScale E600i, will fill one third of a telecom rack and is slated for third-quarter availability.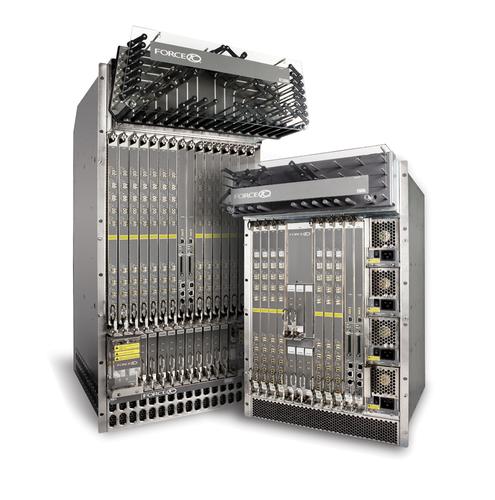 Arguably, that outdoes the competition, Garrison says. For example, Cisco's Nexus can pack 256 10-Gbit/s Ethernet ports into a half-rack, but only 32 of them can run at line speed, he claims.

That's not to say oversubscription is bad. Eventually, Force10 does intend to produce super-high-density, oversubscribed blades for the ExaScale, Garrison says.

Force10 is trying to work a couple of different angles related to the new data center that's beginning to emerge. It's already been talking up its virtualization capabilities. (See Force10 Gets a View.) And through the merger with Turin, Force10 hopes to increase its switches' roles in linking data centers to the wide area network. Garrison says carriers account for 30 percent of Force10's business.

Force10 has put MPLS into the home-designed ASICs that power the ExaScale, but they won't be activated at first. This kind of MPLS use is likely to come later down the road, because, while telecom customers will embrace it, it's not familar ground for the data center. "Data center managers are going to take a long time to get used to this," Garrison says.

One possible MPLS scenario could arise as carriers offer cloud computing as an enterprise service. That could create a need to use MPLS to give a customer its own Label Switched Path (LSP) between the server edge and the network core.

Garrison says Force10 also expects to add Ethernet-over-Sonet to its gear, considering Turin already uses the technology.

— Craig Matsumoto, West Coast Editor, Light Reading