Ever wonder what you can do with a femtocell besides get better cellular coverage in your home?

Probably not, but the fledgling femtocell industry wants to answer that question for operators in order to make the femtocell more than just a fancy signal booster.

To that end, the home base station industry group, the Femto Forum Ltd. , launched an initiative this week to spur the development of femtocell applications. The goal is to work with standards bodies to create a standard set of application programming interfaces (APIs) that will support femto apps. (See Forum Tackles Femto Services and Femto Rivals Team on Apps.)

Femtocells can hold key location, presence, and context information about users, so the idea is to have standardized interfaces that application developers can use to gain access to that information and incorporate it into Web, network, or device applications.

Femto firms are so keen to get apps development going that archrivals Airvana Inc. , ip.access Ltd. , and Ubiquisys Ltd. announced they would work together to support the Forum's initiative to create the common APIs, rather than developing their own proprietary apps that could differentiate their access points.

"It makes sense," says David Nowicki, VP of product management and marketing at Airvana. "We want to enable all the great apps out there for femtocells. We'll have open APIs that all have to be possible."

The femto app store?
Nowicki takes the app development concept a step further and proposes that femtocells could one day have their own app stores, which would see the home base stations join the rush of company's aiming to emulate Apple Inc. (Nasdaq: AAPL)'s model. (See BlackBerry App Store Approaches and Vodafone Puts Its Apps in Gear.)

"The whole idea of an app store makes sense on a femto," says Nowicki. "Someday you'll see a femto with a screen on it and you'll be able to download apps."

That femto concept with the screen already exists in Motorola Inc. (NYSE: MOT)'s picture frame femto, which incidentally, uses Airvana's CDMA femto module. (See Picture This: Moto's Femto Frame.)

Show me the apps
So what are all the nifty things operators can offer to their customers with these little base stations? At the Femtocells World Summit in London, 10 femto firms participated in various live demonstrations, showing off presence and media sharing capabilities.

Here's a snapshot:


ip.access showed off its Facebook virtual fridge notes app, which essentially uses the presence information available on the femto to deliver messages. Here's how it works: Say you have pet fish, and while you're out of town, you want to remind your roommate to feed them when he gets home. [Ed. note: This is ip.access's example. I don't have any fish.] You can compose the reminder message on Facebook, which will be delivered to your roommate's phone as soon as he is within range of the femtocell at home. The femto recognizes that the roommate has arrived home and sends the message: "Feed the fish."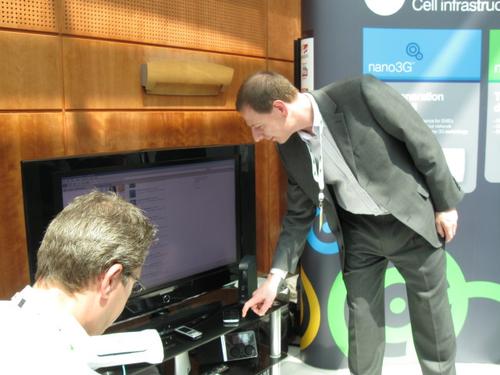 ip.access also made this work on the 3G iPhone using Apple's new push service in the 3.0 software. And the user interface on the iPhone actually looks like a fridge.


Motorola made a VoIP call over an EV-DO network in the U.S. using a SIP softphone and its CDMA femto embedded in a digital picture frame.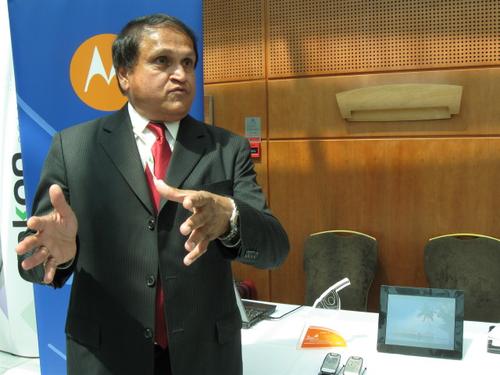 Sagem Télécommunications SA showed how a user can control her TV remotely from her cellphone when a femto is connected to a digital set-top box (STB). For example, from her mobile device, the user could turn the TV on or see what programs are being viewed at a certain time (which would come in handy for parents wanting to check whether their kids are actually doing their homework or watching TV). Users can also check whether the central heating is on at home. The intelligence for these apps resides in the residential gateway, but the femto brings in the cellphone, which can access these apps remotely.


In partnership with Mobica Ltd. , Ubiquisys demo'd an app that automatically downloads a user's latest podcast to his mobile phone as soon as he gets home. The femtocell's detection of when a user arrives home triggers the download to start automatically.


Pirelli Broadband Solutions showed what's possible when the cellphone is brought into the home network. The vendor hooked up two sets of digital TVs, STBs, and femtos (embedded in DSL gateways). The STBs enable IM sessions to be viewed on the TV and allow one user who's watching TV to see if his friend is online and what he's watching. So, if you want to ping your friend, you can send an IM from your cellphone and your friend gets the IM on his TV. The message is sent via the femtocell.


Airvana demonstrated the power a femto can put into the hands of parents of teenagers. The femto was programmed to send a text message to you, the parent, when your daughter arrived home from school, as well as when her boyfriend showed up at the house with their three friends. [Ed. note: Gotcha!]


Alcatel-Lucent (NYSE: ALU), Vodafone UK 's commercial femto supplier, showed several presence demos. One involved sending a user's subscription e-magazine to her cellphone when she arrived home. Another involved a text notification to parents when their youngster arrived home.


Huawei Technologies Co. Ltd. showed off a push service for when cellphones enter the femtocell's range. For example, entering the femtocell's coverage area would trigger the receipt of a multimedia messaging services (MMS) video.


Similar to Pirelli and Sagem, Thomson S.A. (NYSE: TMS; Euronext Paris: 18453) showed how femtocells can be integrated into the home network. The vendor also showed how users can turn their lights at home on and off using their mobile device.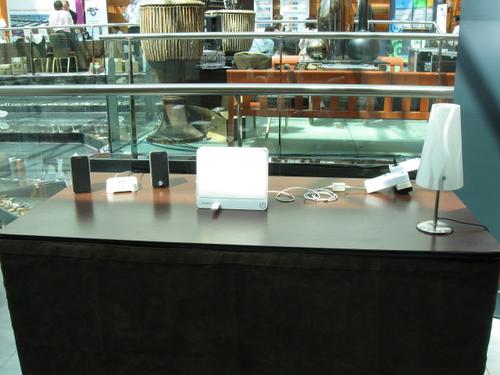 — Michelle Donegan, European Editor, Unstrung