EXFO Electro-Optical Engineering Inc. (Nasdaq: EXFO; Toronto: EXF) of Quebec has announced its intent to buy Addison, Texas-based Gnubi Communications in a deal that highlights the ongoing consolidation of the telecom test equipment market.

The stock and cash deal is worth between US$4.3 million and $7.2 million, depending on whether Gnubi makes its target of $6 million in revenues over the next six months, according to Michael Lamanna, EXFO's director of investor relations and corporate development (see EXFO Acquires Gnubi).

It's surely a sign of the times that Gnubi's sale price is a fraction of its old valuation. Founded in 1994, Gnubi was profitable for several years but recently has fallen on hard times. The company had 105 employees and its 2000 revenues were between $25 million and $50 million, according to a December 2001 report in The Dallas Morning News. Now Gnubi has only 30 employees, nearly all of them developers, according to the company, and EXFO's Lamanna confirmed that Gnubi is no longer profitable.

EXFO, an 800-person company that specializes in fiber optic test, measurement, and monitoring equipment, says it needs Gnubi's protocol-oriented technology to expand its customer base, which is heavy on service providers. Gnubi, in contrast, caters to equipment manufacturers and R&D labs.

EXFO says Gnubi has deployed some 15,000 ports in about 50 different customers. Its customers include big equipment manufacturers such as Lucent Technologies Inc. (NYSE: LU), Cisco Systems Inc. (Nasdaq: CSCO), and Ciena Corp. (Nasdaq: CIEN).

Gnubi's gear is used to simultaneously test multiple communication ports in lambda routers, optical switches, crossconnects, and DWDM systems (from DS1 to OC192 line rates, as well as Gigabit Ethernet) on a single platform.

Thus far, EXFO hasn't changed its previous guidance for its fourth fiscal quarter of 2002. The company has forecasted sales between $15 million and $17.5 million with a pro forma net loss of between 4 and 6 cents a share. It's acquisition of Gnubi is expected to close during the first quarter 2003.

As well as its test gear, Gnubi is also known for its odd name, garish trade show booths, and goofball job titles (see 50 Worst Company Names and The Booth Beauty Contest). But Lamanna says Gnubi's quirky culture will be an asset for EXFO. "We like their corporate culture," he says. "It's dynamic and entrepreneurial and we want to make sure that their product development remains in Dallas and stays happy."

The two companies will exhibit together at NFOEC, but it's not clear whether Gnubi will be keeping its trademark stand (see below). Managers at Gnubi referred calls from Light Reading to EXFO.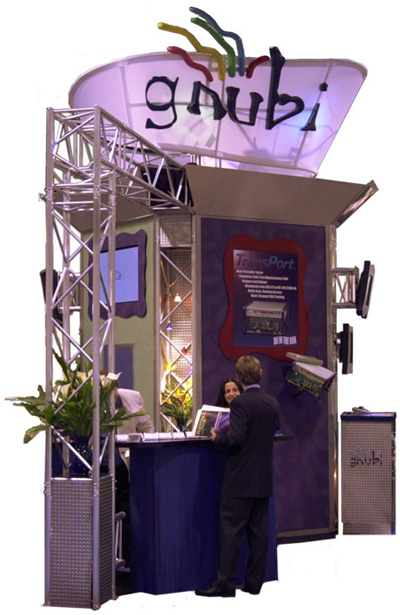 — Phil Harvey, Senior Editor, Light Reading
www.lightreading.com