HALF MOON BAY, Calif. –- Top service providers, equipment vendors, and components suppliers gathered here this week at Light Reading's Links 2004 Executive Summit to plot the future of the telecom supply chain and to discuss the services and business models that could drive the telecom recovery.

One of the sweeping themes of the conference was the convergence of wireline, wireless, and broadband across a standards-based, IP-based network infrastructure. An example of this would be providing phone and data services that would allow users to roam seamlessly between mobile to fixed networks without a hiccup.

Service provider and equipment vendors alike say such convergence, as well as bundled communication offerings, provide the next big opportunity for the industry. More importantly, they appear ready to make the investment to integrate diverse networks and business systems.

"Wireless/wireline interaction will be an emerging killer app," says Mark Kaish, VP of next-generation solutions with BellSouth Corp. (NYSE: BLS). "If you think of the concept of seamless mobility, wireless has a tremendous amount of potential. It's a major trend." Even though there is still debate and confusion about what will become the dominant access method for these new services -- whether it be Fiber to the Premise (FTTP), DSL, or wireless technologies such as 802.11 and WiMax -- conference attendees agree the industry needs to work on tying these networks together to retain customers as they roam from one access point to another.

"There is going to be a broad diversity of access technologies," said Mike Volpi, senior VP and GM of Cisco Systems Inc.'s (Nasdaq: CSCO) Routing Technology Group, in Monday morning's keynote session. "The key is to have a suite of applications that users can have and run that over one network."

Volpi pitched the idea of universal exchange, in which a common set of communication services can be available over multiple platforms, allowing the user to roam, say, from wireline broadband to wireless connectivity while remaining on the same service provider's network. The challenge for service providers, says Volpi, is being able to develop a common subscriber management system for authentication, billing, and services levels and policy for customers that roam between networks and access points.

Other speakers say that a unified network and authentication system would also allow service providers to beef up value-added services such as security and content management and distribution.

"There is an opportunity to differentiate operator services," says Rod Randall, senior managing director at venture capital firm Vesbridge Partners LLC. "Service providers need to find and leverage these new services."

Some of the examples of new services Randall mentioned were parental control, security, and spam filtering. "I have to do that myself right now, but the network could do it and I would pay for it," says Randall. "Devices will get more sophisticated, they will not only insert more pain and pleasure into a network, they will present novel opportunities."

Research from analysts of Heavy Reading appear to reflect solid demand for integrated communication services. Heavy Reading Chief Analyst Scott Clavenna, citing research from a forthcoming Heavy Reading survey of end users, says that consumers are increasingly looking for bundled packages of communications services. Heavy Reading survey indicates that most consumers have an interest in bundled services.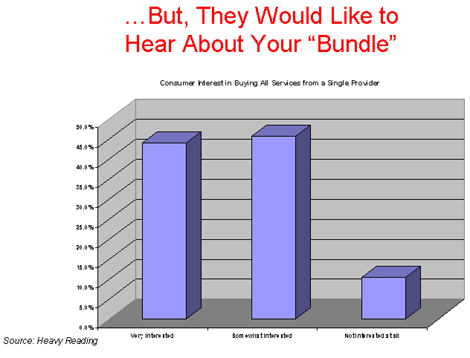 But a theme throughout the Heavy Reading survey, as pointed out by Clavenna, is that most customers expect more "bang for the buck" in services, and they are generally only interested in a bundled service if it saves them money.

The good news, however, is that service providers appear undeterred by potential pricing pressure. Service provider panelists were unanimous in their desire to create highly integrated mobile and wireline networks and services.

"Wireless/wireline integration is a key area of focus for SBC going forward," says Ralph Ballart, vice president of broadband with SBC Labs, a division of SBC Communications Inc. (NYSE: SBC).

— R. Scott Raynovich, US Editor, Light Reading


---
For more on this topic, check out:
---
For further education, visit the archives of related

Light Reading Webinars

: