Experts say virtual private network (VPN) services based on IP are growing in Europe, but the angle of their ramp-up depends on how soon they displace private lines and frame relay links.

"We're talking about huge markets that aren't going away," says Erin Dunne, director of research services at Vertical Systems Group. Unless IP VPNs prove more cost-effective than dedicated services (and, not incidentally, just as secure), big customers won't bite.

Still, IP VPNs are gaining momentum in the EC. According to a recent report from Frost & Sullivan, revenues from IP VPNs in Western Europe grew 16 percent this year and could increase by an order of magnitude by 2005 (see IP VPNs Taking Off).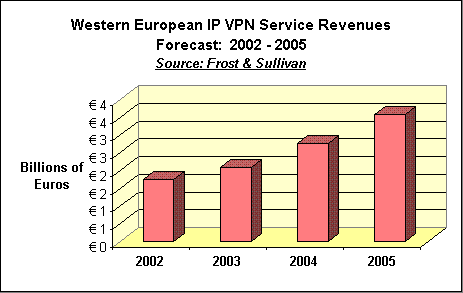 Niamh Spillane, industry analyst at Frost & Sullivan, says carriers need to go easy and realize they can't expect customers to replace dedicated services with IP VPNs overnight. When presented as an add-on or enhanced option, though, carriers could use legacy services as a launching pad for IP VPNs.

Big multinational carriers will drive the near-term market in Europe's IP VPN services, Spillane says, because they're the ones that can afford to support network infrastructures for multiple service types. Their customers, in turn, are likely to be Europe's biggest multinational businesses.

What will drive these customers? Vertical Systems' Dunne says the enterprises likeliest to benefit from IP VPNs near-term are those requiring full-mesh IP capabilities. For these, adoption of IP VPNs will represent sizeable savings by replacing multiple distinct (and costly) connections.

Potential takers include businesses with complicated interactive applications involving Internet use -- where many low-speed private lines are being replaced with higher-speed ones. Similarly, enterprises that backhaul lots of frame relay connections to put on high-speed links stand as candidates for a VPN upgrade.

Customers like these stand to save big, and they already know who they are, Dunne says. The trick lies in convincing other prospects, including local or regional businesses in Europe, to glom on too.

The process won't be an easy one, though some European carriers, such as Equant (NYSE: ENT; Paris: EQU), are attempting to educate customers on IP VPN benefits (see IP VPNs -- A Case Study).

Still, European dedicated services are entrenched.

"Private line revenue is still growing, but since low-speed lines are being replaced with high-speed ones, port or circuit counts are probably showing negative growth," Dunne says. In contrast, frame relay revenues are growing in terms of both installed ports and revenues.

— Mary Jander, Senior Editor, Light Reading