NEW YORK -- Ethernet Expo Americas 2011 -- The Optical Transport Network (OTN) is about to be run out of town, if Sten Nordell, CTO of Transmode Systems AB , has his way.

During a spirited session on packet-optical transport Tuesday afternoon, Nordell went on a verbal rampage against OTN, saying the technology just gets in the way when applied to an all-packet service.

His point was that because OTN is a digital wrapper, packing all sorts of traffic into a homogeneous form, it obscures the visibility you'd want with pure Ethernet services.

"If you want an SLA on an Ethernet packet and you put it on an OTN frame and you want to look at it -- you can't see it," Nordell said. "The only way to do it is stop the OTN, de-wrap it, look at it ... What you've done is broken your OTN service."

Nordell also mentioned the issue of latency, arguing that the application of a digital wrapper can add delays to traffic transit times. Heavy Reading analyst Sterling Perrin later told Light Reading he wasn't so sure that was the case, but in any event, Transmode is claiming to have latency down to 1.9 microseconds one-way, "lower than most OTN switches can reach," Nordell said in his talk.

The other panelists didn't exactly lift Nordell on their shoulders after this. Chip Redden, senior director of marketing with Ciena Corp. (NYSE: CIEN), brought up the most obvious counterargument: "Not every service we have is packet-based today," and OTN, being a time-division multiplexing (TDM) technology, is suited for carrying other TDM traffic.

Nordell questioned the logic of defining next-generation networks based on old TDM requirements, though, bringing up the fact that OTN (a.k.a. International Telecommunication Union, Standardization Sector (ITU-T) G.709) dates back to last century.

Applying OTN means putting "technology defined 15 years ago onto an architecture for the next 20 years that's going to be 99.99999 percent packet," Nordell said, maybe with a touch of hyperbole. "I think that's a stupid idea."

It would be better to put TDM traffic -- assuming it's the vast minority -- onto its own wavelength, separated from the all-packet majority, he said.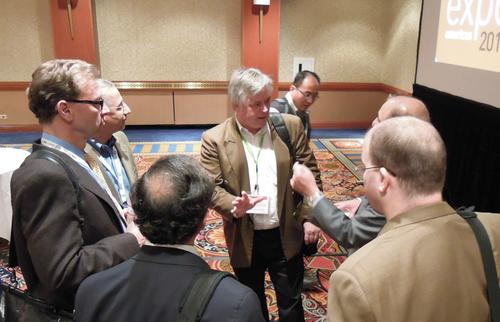 Other panelists came to the defense of OTN in other ways. James Anthony, who plans packet-optical strategy for Fujitsu Network Communications Inc. , pointed out that 100Gbit/s wavelengths will need to be filled; OTN can groom traffic to pack those connections thoroughly. And Steve West, CTO of Cyan Inc. , said OTN provides bit-error-rate correction and forward-error correction (although, admittedly, these things can be had without OTN as well).

Despite his rant, Nordell did admit OTN has its place in the network. In fact, it seems pretty well established that carriers want to see OTN in the network core, Perrin told Light Reading. But the metro network is where OTN's presence is up for debate, he said.

— Craig Matsumoto, West Coast Editor, Light Reading