Ethernet's Missing Pieces
NEW YORK -- Ethernet Expo -- Ethernet services are all the rage, but a keynote talk yesterday brought in a dose of reality from the service provider perspective.
Rich Klapman, director of product marketing for Ethernet services at
AT&T Inc.
(NYSE: T), ran through a list of issues service providers are still grappling with. His goal wasn't to ruin everybody's day, but to further the dialogue about the tremendous amount of work that still needs to be done on carrier Ethernet.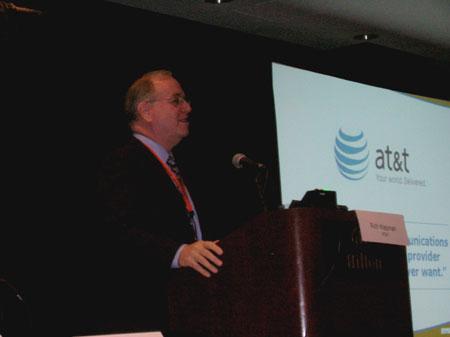 Not all the issues are technical. For example, there's the struggle of getting salespeople to start preaching Ethernet to potential customers. "The sales forces are not as expert as we are here in the room," he said.
Carriers may need to get more aggressive in pushing salespeople to emphasize Ethernet.
Heavy Reading
analyst Stan Hubbard, in a separate Expo session, noted that at least one carrier in Europe has stopped offering incentives to its salespeople when it comes to TDM business.
Ethernet, for all its promises of low cost, also feels expensive to some enterprise customers, Klapman said. "The customer has this expectation that a T1 costs
x
dollars, so they ask why they can't get Ethernet at that price," he says. "Fifty percent are not able to square their business case to buy carrier Ethernet."
A similar sentiment was reflected in a morning session today. Mike Tighe, director of strategy at
Verizon Enterprise Solutions
and chairman of the MEF, noted that enterprises don't necessarily save money migrating to Ethernet, because the cost of swapping out infrastructure can wipe out the cost savings of the technology.
Klapman's biggest beef was a rather predictable one: operations, administration, and maintenance (OA&M) capabilities.
"The most critical thing we're missing today from a maintenance standpoint, is Ethernet OAM," he said. The Ethernet network as it stands is "like a plate of spaghetti -- you pull one end and something else happens on the other end."
As an example, he cited an incident where the lasers on one customer's equipment were affected by an event elsewhere in the network. "It was an outage because of a 100 millisecond event. Sonet doesn't have that," Klapman said.
Klapman also made note of Ethernet's lack of ubiquity. AT&T is trying to address this by building out its network; Klapman expects to have Ethernet reaching more than 80 percent of the carrier's customers by the end of this year. That build includes adding more points of presence in some markets, and overall, Klapman sees 2008 being "another heavy duty capital construction year" for Ethernet.
Ubiquity remains a problem. To reach more remote customers, AT&T would like to buy wholesale Ethernet services from other carriers -- but those other carriers often refuse, Klapman said. The result is that AT&T is building some of its own Ethernet access.
— Craig Matsumoto, Senior Editor,
Light Reading
PARTNER PERSPECTIVES
- content from our sponsors