Ethernet Revenues Set to Surge
It's safe to say that Ethernet has established itself as a hot market, and analysts are predicting a wealth of opportunities for new revenues -- something that's born out by
Light Reading
's
Ethernet Services Directory
, which now lists 448 services from 250 companies.
Worldwide revenue from Ethernet services hit $2.5 billion last year, and, in its latest report,
Infonetics Research Inc.
projects it will more than double in 2005 (see
Report: Ethernet Services Top $2.5B
).
The report's author, principal analyst Michael Howard, says the market is on fire and will surge 276 percent between 2005 and 2009 to $22.2 billion.
Breaking down the market, wholesale Ethernet services, which tend to be point-to-point connections, account for a quarter of revenues, while the other 75 percent comes from retail services, typically Internet access, private line, and transparent LAN services. The Ethernet Services Directory enables users to filter and compare services based on these features and more to see exactly what's available.
The boost in revenues comes as service providers finally begin to implement their strategies for Ethernet.
MCI Inc.
announced last week that it's expanding its portfolio to create a more comprehensive offering that taps into demand for cheap LAN extension and bandwidth (see
MCI Touts Global Ethernet Services
). New offerings include a global private-line service and Ethernet access to its
MPLS
VPN. (Directory: and .)
The new services deliver on MCI's strategy, announced last year, to take flexible, packet-based services to the customer premises, with the ultimate aim of migrating its network from legacy TDM to Ethernet (see
MCI Goes Ethernet Crazy
).
The carrier is also trialing its Converged Packet Access architecture, emphasizing the growing importance not only of providing a dumb pipe, but offering multiple applications over an Ethernet connection (see
MCI Trials Converged Access
).
Such moves are an act of self-preservation on the part of many service providers. The boom in Ethernet is putting the squeeze on revenues from older data services, according to
Heavy Reading
senior analyst Stan Hubbard (see
HR: Ethernet's Taking Over
). The big three long-distance carriers -- MCI,
AT&T Corp.
(NYSE: T), and
Sprint Corp.
(NYSE: FON) -- all reported double-digit declines in revenues from those data services in 2004, Hubbard says.
With Ethernet, operators are increasingly seeing the opportunity to expand internationally: For example,
Yipes Enterprise Services Inc.
's vice president of marketing, Keao Caindec, says that company is focused on providing services globally (see Directory: and
Ethernet Demand Revives Yipes
). Compared with North America, "Ethernet growth is faster in Europe and even faster in Asia," he says. Infonetics concurs, reporting that the Asia/Pacific region accounts for over 40 percent of revenues, the EMEA region for 30 percent, and North America, 20 percent.
But the rate of growth worldwide is such that even in the U.S. market, analysts are still predicting a sharp rise in revenues.
Vertical Systems Group
points specifically to the metro Ethernet sector, which it says will continue to lead over wide-area services (see Figure 1).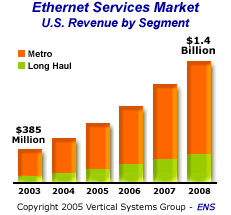 — Nicole Willing, Reporter,
Light Reading
EDUCATIONAL RESOURCES


PARTNER PERSPECTIVES
- content from our sponsors