NEW YORK -- This week, Light Reading's inaugural Ethernet Expo event kicked off with some of the leading carriers and technology luminaries in the Ethernet services and equipment market, drawing some 40 exhibitors and nearly 700 attendees over the conference's first two days.

Attendees came in from torrential rain and crammed into the ballroom at the Grand Hyatt hotel here in Manhattan to debate the technology's progress and its faults.

Metcalfe's olive branch
On Tuesday, Ethernet inventor and Polaris Venture Partners VC Bob Metcalfe kicked off the show with a keynote address on Ethernet's future. Metcalfe told the audience that Ethernet was further expanding its universe, moving "up, across, through, and down" into new markets. The "up" means taking Ethernet to higher speeds, such as 100 Gbit/s. (See Ready for 100-Gig Ethernet? ).

In case you're wondering, here's the rest of Metcalfe's Ethernet prepositions: "across" for crossing the "telechasm," or the bottleneck between carrier networks and users; "down" for putting Ethernet into the embedded systems market; and "through" as in going through the air, with wireless technology.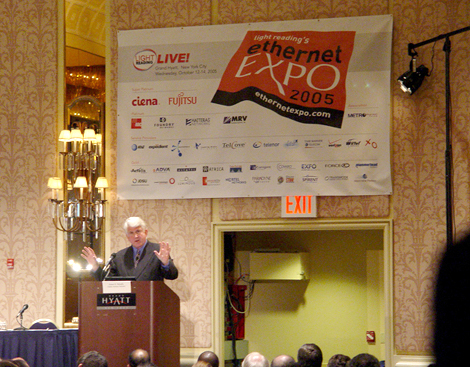 Metcalfe also told the audience about his packet-switching roots. At a Washingon hotel some 33 years ago, (NYSE: T) executives laughed at him after a demo of one of the first packet switches crashed. Metcalfe said this experienced left him "deeply scarred" and led him to be hostile to large incumbent carriers for many years. With Ethernet moving into the mainstream, though, Metcalfe said he may now be ready to let go of this deep grudge. Carriers now appear ready to move on a large scale from circuit-switched architectures to packet switching.

"I would like to think this Ethernet Expo is the reconciliation between the packet and carrier world," said Metcalfe. "But carriers should be on alert: The Ethernet market works because it is fiercely competitive."

Verizon's new look
So if a packet-switching guru such as Metcalfe is ready to give up on RBOC acrimony, what said the incumbent telcos?

(NYSE: VZ) did its best to dispel the image of a stuffy RBOC resistant to change. The carrier not only embraces Ethernet services but sees them as a key way to generate more revenues.

That's counter to the stereotype of large carriers clinging desperately to Frame Relay and TDM services, fearing that newer, cheaper services will cannibalize present revenues.

Ethernet wasn't always the good guy in Verizon's mind. "Two and a half years ago, when I first began the program, Ethernet services were very much a defensive play at Verizon," said Michale Tighe, director of advanced data products and services with Verizon. "It was only if the competitors were storming the gate and our best Frame Relay services have failed and our best ATM services have failed -- then we'd bring out the Trojan horse."

Today, Verizon is buying into convergence, using MPLS as the universal ticket bringing all service types into one network. And in the past year and a half, customers have started noticing that Ethernet and convergence can save them money, Tighe said.

Nice, but doesn't Verizon end up with less money in the end? After all, the old way involved using separate networks for every service -- less practical for the customer, but a bigger bill for Verizon, yes?

"No, and here's why: When you have separate networks, every network decision is made separately, so I win some and I lose some," Tighe told Light Reading. With the Ethernet/MPLS approach, "the aggregate spending may go down, but I win it all."

Dogged demand
One of the more upbeat themes of the conference appeared to be the steady demand for Ethernet services -- whether or not there was supply to help that demand.

Several end users remarked that it would be nice to buy Ethernet services -- if they could only locate them. (See Ethernet Expo: Shop 'Til You Drop).

Mike Rouleau, vice president for business development and strategy at , attested to that demand in his Friday keynote address.

"Everybody is talking about Ethernet connectivity," said Rouleau. "They're deploying Ethernet infrastructure. There is demand from the customer. The industry is on fire at this point."

Rouleau says the main allure of Ethernet is its universal compatibility with enterprise networks and its low cost. He points out that half of the enterprise storage products shipped on the market today are based on Ethernet connectivity.

"We can leverage Ethernet components to get better pricing, lower cost of ownership, and support the converged network," said Rouleau. "We can deliver a much more scaleable network at literally half the prices sometimes. It's a great replacement strategy with Frame and ATM backbones." Here's more recent Ethernet coverage from Light Reading: LRTV:

News analyses:

Newswire feeds:

— The Staff, Light Reading