2:15 PM -- They announced it via blog. How Web 2.0 of them.

Jayshree Ullal and her ghost writers posted her resignation notice on Friday, saying she's leaving Cisco Systems Inc. (Nasdaq: CSCO) with no definite plan for what she's doing next. (See Cisco's Ullal Is Leaving.)

Ullal's is the latest big-name departure from Cisco. CFO Dennis Powell recently left after 11 years; Charles Giancarlo took off for Silver Lake Partners late last year; and Mike Volpi joined Joost about a year ago. (See Changes Run Deep at Cisco.)

Ullal ran Cisco's optical networking division back when optical meant something -- check out this report from 2002 -- and more recently she's been the senior VP in charge of data center efforts. She's also part of the Cisco Development Organization, the club of executives that acts as second-in-command to John Chambers. Here's a photo from Cisco's C-Scape analyst event in December.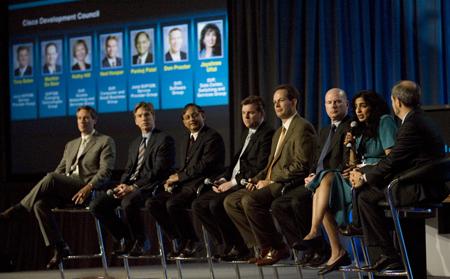 She's being replaced by John McCool, according to a Bloomberg report. Whether McCool gets to join the CDO council isn't immediately clear.

— Craig Matsumoto, West Coast Editor, Light Reading