Juniper Tightens Its Belt
SAN MATEO, Calif. -- New
Juniper Networks Inc.
(NYSE: JNPR) CEO Kevin Johnson said today that the company's going to keep costs under control even as it tries to
increase
R&D spending and push ahead with its enterprise business.
Johnson's remarks kicked off Juniper's day-long event for financial analysts here.
Early on, he amended a comment that apparently had spooked investors during the fourth-quarter earnings call last month. Juniper had pledged to keep its R&D growing. Johnson added, though, that he'll keep overall expenses in line with the economy.
"In a scenario where 2009 shows revenue declining, our year-to-year opex [operating expenses] on a full-year basis will be flat to down," he said. "We have to cut costs everywhere we can, and some of that gets flowed back into R&D."
Johnson isn't ruling out acquisitions, but they'd have to be small and easy to integrate. "I want to make sure that it's clear: Our No. 1 focus is on the organic R&D plan."
Johnson didn't get into details of cost-cutting plans -- that's saved for an afternoon session.
But he did specify some cost-cutting that's related to the executive team. Base salaries for those ranked vice president and higher are being cut by 5 percent, and Johnson himself is taking a 10 percent cut. Moreover, 35 percent of executive bonuses are now tied to revenue growth; if there's no growth, that part of the bonus pool vanishes.
Enterprise plans
Juniper is looking towards the enterprise market for growth -- 30 to 40 percent of the customers buying the
EX data-center routers
are new customers to Juniper -- but it's going to do so more frugally.
"Our cost per sale in the enterprise segment is way too high," said Johnson, who brings the company an enterprise point of view, having worked at
IBM Corp.
(NYSE: IBM) and
Microsoft Corp.
(Nasdaq: MSFT). Juniper will look to narrow its aim in sales and to lower marketing costs with the help of channel partners.
Johnson also noted that the enterprise business has to be treated differently from the service provider business. "We have to get more bifurcated across the two, realizing they are different markets," he said.
That's a break from former CEO Scott Kriens's philosophy of years past, when he'd frequently said that high-end enterprises were similar in their needs to service providers. (To be fair, that answer usually came in response to questions about when Juniper was going to be more serious about enterprise business.) (See
Scott Kriens, CEO, Juniper Networks
.)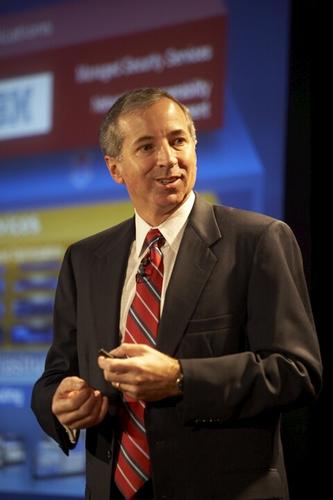 But Johnson agrees with Kriens that Juniper will be chasing only a certain type of enterprise customer, one with complex network needs. "We are a pure play in high-performance networking. We're not going to get distracted," Johnson said.
Johnson said Juniper will continue working at winning more service providers -- company officials are fond of saying they're now selling to all of the top 100 worldwide -- and concentrate on getting involved with more projects at the large ones.
— Craig Matsumoto, West Coast Editor,
Light Reading
PARTNER PERSPECTIVES
- content from our sponsors