Enterprise technology vendor Enterasys Networks Inc. wants to buy something big, and the word around Wall Street is that Ethernet switch firm Extreme Networks Inc. (Nasdaq: EXTR) is its current target.

Extreme stock climbed 18 cents (5.9 percent) to $3.25 Thursday after analyst Samuel Wilson of JMP Securities issued a note saying Extreme is in serious negotiations with at least one potential buyer. Wilson didn't specify a likely candidate, but sources from the financial industry are saying Enterasys is looking likely.

Neither Enterasys nor Extreme would comment.

For the past couple of months, Extreme has been rumored to be on the block; in fact, there's even been talk that private equity firms see a turnaround possibility in the company. (See Extreme for Sale?)

That's far, far different from the Juniper Networks Inc. (NYSE: JNPR) scenario that came up repeatedly, back before Juniper launched its EX line of switches. In that case, analysts considered Juniper to be in need of an Ethernet plan, and the purchase of Extreme was a rumor that came up multiple times. (See Juniper: EX, Not Extreme.)

Extreme's stock has lagged of late, even when compared to the recent weak stock market. The Nasdaq composite has recovered to about the same level as a year ago, and Juniper shares are even up more than 10 percent from a year ago. But Extreme is down, and some in the financial sector believe a restructuring could do it some good.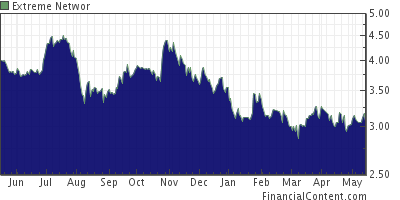 Extreme's market capitalization is around $375 million, and it's carrying roughly $120 million in cash.

So this might be a good time for Enterasys, which was acquired by a group of private equity investors in March 2006, to make its move. It's looking for ways to make more of a dent in the Cisco Systems Inc. (Nasdaq: CSCO) enterprise machine. Enterasys officials haven't been shy about saying they'd like to make a big purchase.

Separately, there's another Enterasys/Extreme tie: The companies are locked in a couple of patent lawsuits. One case is scheduled to go to court next week, and some theories put Thursday's interest in Extreme stock down to market speculation that a settlement is on the way.

— Craig Matsumoto, West Coast Editor, Light Reading