Dell Technologies (Nasdaq: DELL) didn't give a lot of details about its Virtual Network Architecture (VNA) when it unveiled its new enterprise play last week, but officials did give a few details about what's different in Force10 switches. (See Dell Declares an Enterprise Architecture and Dell to Acquire Force10.)

The Dell Force10 Operating System (FTOS) got a few tweaks to accommodate Dell's virtualization plans and become part of a bigger data-center strategy. Dell also added virtual machine components based on VMware Inc. (NYSE: VMW) technology.

Dell wants to virtualize the network, as officials explained at a press event last week. It's a goal common to much of the industry: Turn bandwidth into one amorphous pool that can be tapped by applications when necessary, much the way that storage virtualization makes an array of disk drives behave like one big drive.

"You don't just put down a big box of 'Network' and say, 'What are you going to do with it?' You optimize the network to the workload," says Arpit Joshipura, head of product management and marketing for Dell's Force10 division.

It's a concept many data-center vendors have been playing up -- Cisco Systems Inc. (Nasdaq: CSCO), HP Inc. (NYSE: HPQ) and Juniper Networks Inc. (NYSE: JNPR) are big on the idea, for instance -- and it's also a central tenet for software defined networking (SDN).




The key was to create an abstraction layer for data-forwarding functions. That includes switching and routing as well as new-fangled virtual-machine-moving protocols such as VMware's virtual extensible LAN (VXLAN). Creating an "abstraction layer" means molding all that stuff into a form that can sit in an arbitrary spot in the network.

For now, that place is still on Force10's switches, controllable by management software that views the whole network. Eventually a server could issue forwarding commands to the switches -- which is what SDN is all about. So in a sense, the Dell acquisition pushed Force10 a little closer to an SDN-capable future.

Eventually, Dell wants VNA to include software versions of Layer 4 through 7 functions as well -- things like firewalls, WAN optimization and load balancers. The company is talking to other vendors about providing those applications in software form, Joshipura says.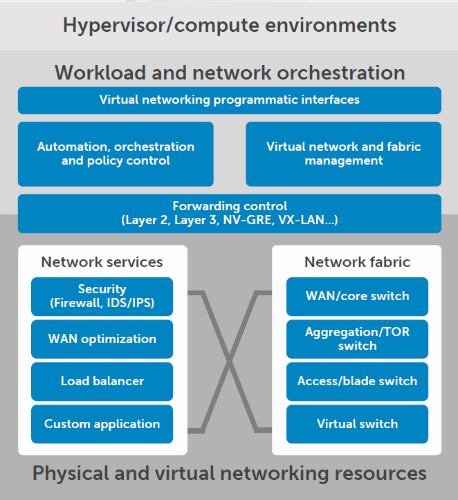 A lot of what Dell is talking about has been said before. And we mean, a lot.

Cisco, for one, says it's had these abilities for a couple of years now. For example, one major Dell VNA feature is VM-VLAN Mobility: When a virtual machine is moved to another location, the VLAN associated with it moves, too. Cisco can move not only the VLAN but the IP address and associated policy as well, says Shashi Kiran, senior director of market management.

Among the criticisms Dell levels against Cisco is that Cisco's Unified Computing System is more tailored toward traditional traffic patterns, whereas virtualized data centers are seeing a lot more east/west traffic -- that is, server-to-server.

Cisco counters that it saw that trend earlier than others did, and that its FabricPath technology covers it. "We already have hundreds if not thousands of customers running [east/west traffic] at varying degrees of scale," Kiran says. "We view this as a second- or even third-generation fabric. Most others are just starting."

Dell does have a more recent switch architecture to play with. The Z9000, announced last year, puts 2.5 Tbit/s of capacity into a box two rack units tall; Dell plans to emphasize the cost and power savings of such a compact device. (See Force10's Fabric Is a Quilt.)

— Craig Matsumoto, Managing Editor, Light Reading