There are already over 130 Ethernet-based services being offered by carriers in North America, but geographic coverage remains patchy.

That's the picture emerging from Light Reading's compilation of the first global directory of Ethernet services (see LR Creates Ethernet Services Directory).

Despite enterprise demand for Ethernet services, carriers are still in the early stages of rollout and their service footprints remain limited. Research from Heavy Reading reflects the gap between enterprise and service provider expectations (see Ethernet Service Challenges Identified and Enterprises: We Want Our Ethernet!).

The chart below, generated from the directory, shows that the majority of services are concentrated in one or two states (or Canadian provinces) and hardly anyone comes close to offering national coverage. Seventy-three of the services -- over half -- are provided in five states or fewer, while less than 10 are available in more than 30 of the 50 states.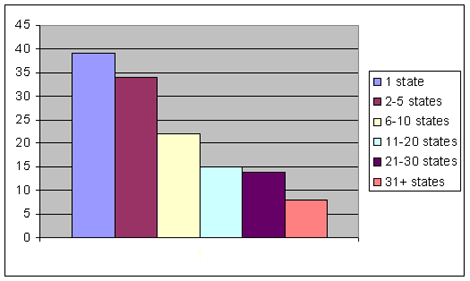 City coverage is also sporadic, with many multi-state services available in only one location within each state. For example, a provider offering a LAN connectivity service might cover California, New York, Massachusetts, Illinois, and Georgia, but only in Los Angeles, New York City, Boston, Chicago, and Atlanta.

Of the operators listed so far, Looking Glass Networks Inc., Masergy Communications Inc., and AT&T Corp. (NYSE: T) are the only ones to claim coverage of all states. (Canadian providers are off the hook when it comes to network reach, unless there's booming demand for Ethernet in the wilds of Nunavut.)

With each service covering so few locations, the focus is still on metro area networks (MANs) -- rather than linking out to multiple locations with wide area networks (WANs). This chart compares metro and WAN services, including those that offer both options:


Of the 137 services listed, 60 cover the metro area and 18 cover the wide area. Another 59 services provide both metro and wide area coverage. So a carrier may offer at least two services: one MAN, and one providing metro as well as some form of inter-city connectivity.

Since most services are available in one or two states, the WAN offerings tend to be point-to-point services between two intrastate locations, e.g. Los Angeles and San Francisco, rather than multipoint LAN connections spanning several states. And in many cases, the 'both' option also refers to basic Internet access over Ethernet.

The good news is that there are so many services available at all, including a few from small local carriers that make Ethernet accessible outside of the major metros. And service provider plans for the year ahead indicate Ethernet is a top priority for those that don't offer it yet.

To make sure your company is included in Light Reading's Ethernet directory, just submit this form.

— Nicole Willing, Reporter, Light Reading