Ericsson AB (Nasdaq: ERICY) appears to be within touching distance of its 15 percent target for its share of the CDMA (Code Division Multiple Access) infrastructure market, closing the gap on rivals Motorola Inc. (NYSE: MOT) and Nortel Networks Ltd. (NYSE/Toronto: NT).

The Swedish vendor is traditionally associated with the European-backed GSM (Global System for Mobile communications) and UMTS (Universal Mobile Telecommunication System) sectors, battling for the top spot with Finland's Nokia Corp. (NYSE: NOK).

The vendor raised eyebrows in 2002, however, by declaring its intention to win a top-three place and a 15 percent market share in the rival CDMA business – a "spread-spectrum," digital, cellular air interface technology mainly used in the U.S. and South Korea (see Ericsson's CDMA Cheer and Ericsson Eats Into CDMA).

Such ambitions were initially met with a heavy dose of skepticism from analysts and rival vendors, but the latest report from Nomura Holdings Inc. suggests that the company is on track to achieve its goal.

"We think it will be around the 15 percent mark by the end of this year," says Dr. Richard Windsor, the author of the report. "They have gained a lot of share."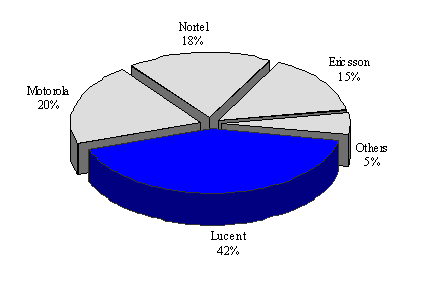 Windsor believes that such success can be attributed to Ericsson's ability to transfer much of the technology and hardware platforms developed for its larger UMTS business to the CDMA market (see Ericsson Ships Dualmode 3G and Ericsson Aims for Broader Base).

"The Ericsson offering has certain qualities to it that might make the likes of Motorola and Nortel sweat a bit. When UMTS starts to take off, the volume base on which Ericsson will be selling this stuff will be much greater than Motorola, Nortel, and even Lucent. Technologically, Ericsson's offering is pretty good, and they will have a good crack at eating away at Motorola and Nortel. It's a volume-based game, so they can certainly be very aggressive on price and still make money."

Analyst firm Gartner Inc. is also impressed with Ericsson's CDMA market growth. "We had them down at 10 percent in 2003 in terms of revenue, but I believe the CDMA business has been doing well," says principal analyst for mobile communications, Jason Chapman. "I was one of those folks saying it needs to grow market share or get rid of that business. The concerns that I had personally been expressing have changed. It's not the weak part of their business that it once was."

Ericsson itself does not publicly break down market infrastructure revenues. Calls to the vendor were left unanswered at press time.

— Justin Springham, Senior Editor, Europe, Unstrung