The edge router market has been hit in the face with a frying pan, so to speak, according to a report published by Infonetics Research Inc. earlier this week.

To complicate the matter, everybody seems to want in, with several big names competing for a slice of the pancake.

But the news isn't entirely bad. Michael Howard, principal analyst at Infonetics and co-author of the report, sees the sector rebounding toward the middle of this year, with revenue in the edge and core hardware equipment market growing from $3.9 billion in Q1 2001 to a total of $16.9 billion for the entire year.

"This part of the market has definitely been hit by carrier capital spending issues," says Howard. "But we think there will be a rebound, and $16 billion is a pretty big hunk of change."

In the report, Infonetics breaks down the edge router market into two sectors: IP service switches and IP aggregation routers. In the IP service switch category are companies like Unisphere Networks Inc. (Nasdaq: UNSP), Redback Networks Inc. (Nasdaq: RBAK), Nortel Networks Corp. (NYSE/Toronto: NT), Lucent Technologies Inc. (NYSE: LU), CoSine Communications Inc. (Nasdaq: COSN), and Cisco Systems Inc. (Nasdaq: CSCO) with its 7200 router and 6400 switch. On the IP edge aggregation side are companies like Cisco (7500 router, 7600 OSR, and 10000 switch products), Riverstone Networks (Nasdaq: RSTN), Juniper Networks Inc. (Nasdaq: JNPR) (M5, M10, and M20 routing platforms), and Foundry Networks Inc. (Nasdaq: FDRY) with its NetIron family.

A decline in revenue for these companies should not come as a surprise, considering that several of them -- including Cisco, Foundry, Redback, and CoSine -- had been reporting disappointing earnings and a slowdown in carrier spending.

According to Infonetics, Q4 2000 revenue for this group was about $339 million. In Q1 2001, it only increased 2 percent to $345 million. Historical data generated from Infonetics reveals that revenues in this sector have been declining fairly steadily over the past year. In the second quarter of 2000, revenue grew 33 percent from the first quarter. But revenue declined 11 percent in Q3 compared to Q2, and Q4 revenue in 2000 rebounded only 5 percent over Q3. In total, Infonetics is only expecting aggregation router revenue to grow 31 percent for all of 2001.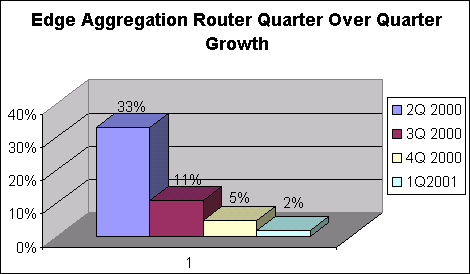 The news is worse for IP service routers, which provide IP services like virtual private networking. Revenue in this category actually declined about 20 percent quarter over quarter. In the first quarter of 2001, revenue totaled $220 million compared to $277 million the quarter before.

Every company Infonetics tracked lost market share, with the exception of Unisphere and Cisco. Cashing in on several overseas accounts from Deutsche Telekom AG (NYSE: DT) and Hanora Telecom (Korea's largest broadband provider), Unisphere doubled its market share from a mere 7 percent to 14 percent (see Unisphere Posts 47% Revenue Growth ).

"Unisphere's emphasis on overseas sales is what really put it over the top," says Howard.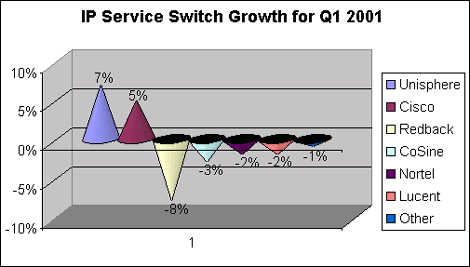 While Cisco's revenue in the area declined, the company actually gained 5 percent market share, as other competitors lost. Redback was the hardest hit in this category, dropping from 29 percent market share in Q4 2000 to 21 percent in Q1 2001 -- an 8 percent loss. Nortel (Shasta), Lucent (SpringTide), and CoSine, three other big name players, together lost about 7 percent in market share. The smaller category of "other" companies also declined 1 percent this quarter.

But Howard is optimistic that the tide will turn for companies in the edge router market as a whole. He says he expects that the second quarter may also see some decline in revenues, but that the cycle will likely turn in the third and fourth quarters and into next year.

"More and more companies are entering the space with innovative products that offer more functionality, density, and capacity," says Howard. "And from what we can tell from service providers, the demand is there for products that can help them roll out new services and generate revenue. The business drivers are in place, so there seems to be no reason the downturn should continue."

- Marguerite Reardon, Senior Editor, Light Reading
http://www.lightreading.com