ECI Telecom Ltd. (Nasdaq/NM: ECIL) is set to splash some cash to broaden its portfolio and attempt, along with its partners, to take on the equipment sector's big hitters, the company's executives say.

The company, which reports its first-quarter financials today, is brimming with confidence and ambition following its investment in core router vendor Chiaro Networks Inc., which claims it has more deals in the pipeline to add to its initial European carrier contract (see Chiaro Lands ECI Investment and Chiaro Scores in Tiscali's Core).

That minor investment -- only $6 million, and just part of what Light Reading now believes was a substantial funding round of more than $20 million -- gave ECI a product with which to challenge Cisco Systems Inc. (Nasdaq: CSCO) and Juniper Networks Inc. (Nasdaq: JNPR) in operators' next-generation IP plans.

The chief attraction of Chiaro's Enstara, says one carrier executive with experience of the core router, is that "it's cheap." And with increasing signs that lower price tags are carrying greater weight these days, that's an attribute to be respected (see BT Unveils 21CN Suppliers).

Now ECI is looking for more opportunities to expand its technology portfolio via investments and acquisitions. "We have a lot of cash, and we're boosting our M&A activities," says Aviv Ronai, marketing VP in ECI's broadband access division. "Some of those deals are in progress, and we're looking to buy in areas where we don't currently play."

The company claims to have cash reserves of about $280 million at present (see ECI Boosts Its Balance Sheet).

ECI's certainly in better financial health than it has been for several years, having restructured and focused on optical networking and broadband access. It generated a net profit in 2004, albeit only $10.2 million from annual revenues of $497 million, but that followed four straight years of losses (see ECI Reports Q4 Profit).

That recovery has helped its stock in the past year, with the company currently trading at $7.22, giving the vendor a market capitalization of $783 million. A year ago its share price was $5.34 (see chart below).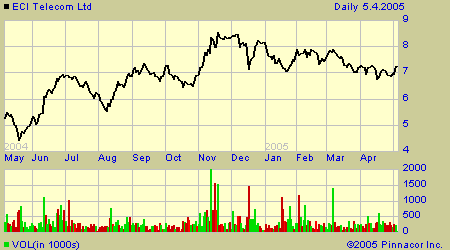 The company believes it has built a solid position in broadband access -- with Tier 1 DSLAM customers such as France Telecom SA (NYSE: FTE) and Deutsche Telekom AG (NYSE: DT) -- upon which it can build a bigger business based on carriers' triple-play and next-gen network needs (see Dittberner Details DSLAM Market and ECI Gets T-Com DSL Extension).

In the fourth quarter of 2004, ECI's broadband access division recorded revenues of $60 million from a total of $140 million, while its optical networks division recorded revenues of $72 million. The remainder came from softswitch vendor Veraz Networks Inc., in which ECI holds a 43 percent stake.

Ronai says France Telecom's IPTV services are being delivered using ECI's access gear, while Taiwan's Chunghwa Telecom Co. Ltd. has based its triple-play services on a combination of ECI's multiservice access gateway, the Hi-FOCuS, and edge routers from partner Redback Networks Inc. (Nasdaq: RBAK). (See Chunghwa Deploys Redback Gear and Redback and ECI Buddy Up.)

"We've been getting into trials with many European incumbents, and we're expecting high-volume shipments in 2007 once the shift to multiservice access really takes off," says Ronai.

He's also keen to talk up his firm's involvement in BT Group plc (NYSE: BT; London: BTA) FTTP trials, though there's no indication that will lead to any purchase orders (see ECI's FTTP Goes Live in BT Trial).

In optical transport, ECI continues to add numerous contracts in Europe and Asia/Pacific. (See ECI Lands Finnish Optical Deal, ECI Bags Army Optical Deal, and ECI Bags Bharti Optical Deal, for examples.)

In addition, ECI claims its partnership with Nortel Networks Ltd. (NYSE/Toronto: NT) is beginning to bear fruit, with deals in Spain and Denmark (see ECI Gets Euro FTTH Deal, Nortel Wins Contracts, Partners, and Nortel Gets Back Into Broadband). "Both companies are investing in the logistics of this partnership. Expect some major activities in this channel," predicts Ronai.

So with multiservice access, optical transport, softswitching, and core routing already covered, where might ECI spend its dollars? Well, it seems ECI might still be interested in minor acquisitions in its existing sectors (see ECI Buys Optical Biz in China). The company declines to put a value on any such transaction.

And it's giving few hints about its M&A targets. Ruben Markus, the company's executive VP of global sales and strategy, says ECI has been working closely with carriers to determine what they need in a next-gen IP world. "It's one thing to deploy an IP network that caters for best effort, and another entirely to build an IP network that has similar capabilities and robustness of traditional SDH networks. And it's not just about equipment any more -- it's about enabling new types of services. That's leveling the playing field. There's no one company that has the breadth of capabilities needed for billable IP services," says Markus.

Industry speculation suggests ECI and edge router vendor Laurel Networks Inc. have held talks, with ECI backing off because of Laurel's high asking price. Both companies declined to comment on that rumor.

Another sector where ECI might explore expansion opportunities, according to an executive from one of the firm's partners, is Ethernet switching, where products would complement the Ethernet capabilities in its multiservice access product. While partner Nortel should be able to meet ECI's needs in this area, that might not stop ECI wanting to own some technology.

Other potential areas of interest, suggest industry executives who requested anonymity, include security, where Cisco and Juniper have been active with their M&A strategies, and service delivery platforms, a current hot topic (see Why SDP Matters Now).

— Ray Le Maistre, International News Editor, Light Reading