A small but vital component of dense wavelength-division multiplexing (DWDM) is emerging as a vigorous new market, according to a recent report from research firm ElectroniCast Corp. (see ElectroniCast Projects DWDM Growth).

DWDM filter modules -- thin-film filters and waveguide array gratings -- will account for 9 percent of the overall DWDM component market from now through 2010, the report says. These passive filters are used by equipment makers to direct wavelengths of light through specific channels in DWDM devices.

DWDM filter modules represent a total market of $406.32 million worldwide right now, chiefly coming from U.S. suppliers, ElectroniCast says. By 2010, DWDM filter modules will account for $3.8 billion of a market for DWDM components that will reach nearly $35 billion annually.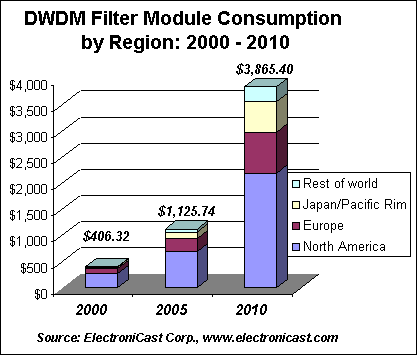 The market will continue to grow at about 22.6 percent annually over the next five years, then gradually increase to 28 percent by 2010. U.S. demand will dominate, with European and Pacific Rim vendors sharing the remainder of consumed filters in fairly uniform distributions through 2010.

In 2000, for instance, 68.8 percent of DWDM filter modules were sold in the U.S., 21.1 percent in Europe, and 7.5 percent in Japan or the Pacific Rim. By 2010, ElectroniCast forecasts, 56.9 percent of filter modules will be sold in the U.S., 20.4 percent in Europe, and 7.5 percent in Asia.

According to report author and ElectroniCast president Stephen Montgomery, the growth in DWDM filter modules will be driven by the clamor for bigger bandwidth and the need to make the most of installed fiber.

"You'll definitely see a growth in the number of DWDM channels supported in various devices," he says. "At some point, optical add/drop multiplexers may support 1,000 fibers, each with a couple of thousand wavelengths per fiber."

Montgomery concedes that scenario isn't likely to happen anytime soon. But burgeoning metro traffic -- and the corresponding increase in DWDM kit sold -- is already widening the scope of players in the DWDM filter module space.

According to Montgomery, leading suppliers -- such as Agere Systems (NYSE: AGR), Corning Inc. (NYSE: GLW), and JDS Uniphase Inc. (Nasdaq: JDSU; Toronto: JDU) -- are being squeezed by scores of upstarts. The report profiles well over 200 makers of DWDM filter modules.

Will tunable lasers, which dynamically allocate DWDM channels, displace any of this growth in passive components? No, Montgomery says. "Tunable lasers will help this market." They'll facilitate the creation of optical add/drop multiplexers, which will have integral DWDM and amplifier capabilities, he maintains. Passive components will continue to present cost-effective ways of directing DWDM within these kinds of devices.

- Mary Jander, Senior Editor, Light Reading
http://www.lightreading.com