NEW YORK -- Ethernet Expo Americas 2011 -- The U.S. Department of Defense is going through the same data-center consolidation with the same need for end-to-end service management as large enterprises everywhere, and it's looking to the telecom and cloud computing industries for help in how to best manage this massive IT project, Henry Sienkiewicz, CIO of the Defense Information Systems Agency (DISA), said Tuesday.

As the agency that provides IT support for combat missions, support bases and Department of Defense procurement processes, DISA is seeing "insatiable demand for our services," but likely facing federal budget cuts as well, Sienkiewicz said.

The current strategic plan involves providing enterprise and IT services, federated across the Department of Defense environment, right down to those in combat, most of whom are part of an 18-to-24 year-old, app-hungry demographic, Sienkiewicz said.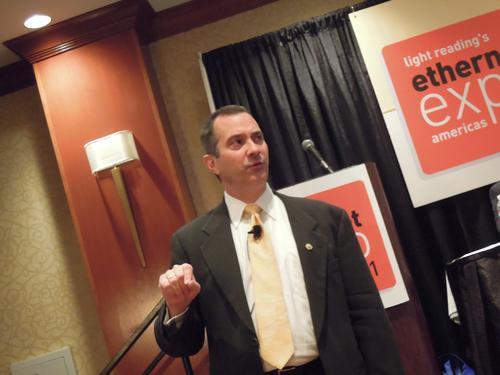 His agency must determine how to deliver those IT services and apps to form factors beyond laptops, mobile phones and tablets, to include wearable devices taken into combat -- and it all must be done with absolute security. Among the challenges will be delivery of electronic medical records for soldiers whether they are at a combat hospital, a field support unit, a military base or in their hometown.

Cloud-based services will be an important part of that delivery system, and DISA has developed a platform-as-a-service strategy, designed to "burst a workload from an Air Force data center to an Army data center," Sienkiewicz said. But he acknowledges there are still complex challenges to making the cloud strategy work. Some of what DISA is seeing from vendors amounts more to repackaging of products to fit cloud hype than to genuine solutions, he said.

Today, DISA can turn up a virtual service in seven minutes, Sienkiewicz added, but "it takes 23 hours to move the money," making the real service delivery time more like 24 hours, which doesn't satisfy most of its constituents. With the new PaaS strategy, DISA hopes to deliver self-service portals on a standardized platform, with the "right types of customer-facing services, the right types of service technologies and the right types of infrastructure under the covers."

And those are all things DISA is looking for help to provide.

— Carol Wilson, Chief Editor, Events, Light Reading