Verizon Wireless used its massive exposure at the start of this year's CTIA show to call for a big standardization effort in the mobile operating system community, with executives expressing hope that in years to come they would just have to deal with a few major OSes for cellphones and devices on their network.

"There's still too many operating systems," Verizon Communications Inc. (NYSE: VZ)'s CEO Ivan Seidenberg told the packed keynote at the opening day of the major U.S. wireless tradeshow. "The sooner we come together around an open environment for development the better."

Verizon Wireless CEO Lowell McAdam picked up the theme at the operator's Q&A session for the press soon after. "Right now, there's eight or nine operating systems I have to deal with," he told the assorted press wonks in the room.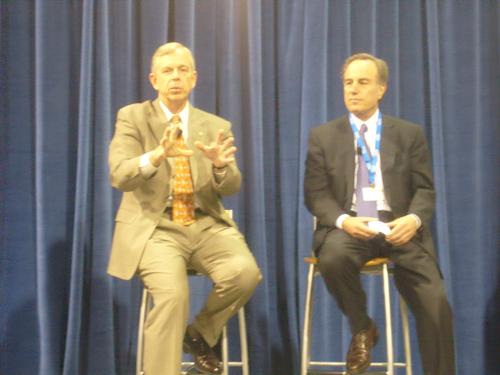 McAdam says he eventually wants to get that down to "three or four," making mobile development akin to developing for a few different PC platforms.

The wireless boss, however, wouldn't be drawn on which operating systems the operator would want to see thrive and which it would rather have die on the vine. "I don't have to care about that," he stated.

Verizon currently uses Windows Mobile and PalmOS among its operating systems. It has said previously that it is open to supporting Google (Nasdaq: GOOG)'s Android and confirmed again today that it is planning devices based on the LiMo Foundation 's mobile Linux OS.

Verizon itself, however, is planning to concentrate on open software development above the operating system layer through its newly announced membership of the Joint Innovation Lab (JIL). Verizon, along with China Mobile Ltd. (NYSE: CHL), SoftBank Corp. , and Vodafone Group plc (NYSE: VOD) will work on mobile widget and application standardization.

— Dan Jones, Site Editor, Unstrung