At half its 2001 size, the market for service provider core routers has clearly shrunk to fit the economic downturn. But there are signs that an uptick may be in the offing.

That's the gist of the latest report on service provider routers and switches from market research firm Infonetics Research Inc. The report covers IP core routers designed for high-speed backbone networks, such as the 12000 and 12400 series from Cisco Systems Inc. (Nasdaq: CSCO); the M40, M160, T320, and T640 from Juniper Networks Inc. (Nasdaq: JNPR); the SSR and TSR products from Avici Systems Inc. (Nasdaq: AVCI; Frankfurt: BVC7); and other gear that incorporates switch fabrics greater than 40 Gbit/s, along with MPLS (multiprotocol label switching) and at least four OC48 (2.5-Gbit/s) ports.

"We expect calendar year 2002 to be down 45 percent compared with 2001," says Infonetics directing analyst Kevin Mitchell. "But we expect minor growth in revenue to begin in the fourth quarter of 2002, with 2003 bringing a return to growth."

It remains to be seen how much growth we may expect. Service providers, having overestimated their bandwidth requirements during the boom era of 1999 to 2000, are bound to be more conservative in their buying plans next year. But Mitchell thinks they will start spending.

"RBOCs and cable companies have made it clear their IP network demand continues to grow by 100 percent annually," Mitchell says. He thinks this requirement will start carriers gradually adding next-generation distributing routing capabilities to their core networks fairly soon.

Still, the segment's taken a beating that's changed the parameters of the game for good. Over the past three quarters, worldwide revenues for service provider core routers have dropped 30 percent.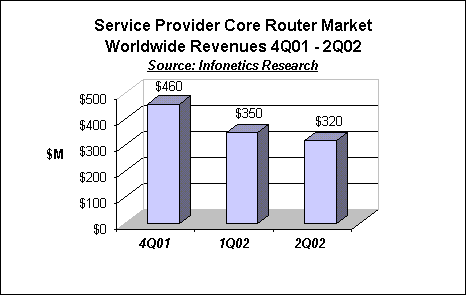 North America has been hit particularly hard, with revenue declining 51 percent, compared with a 45 percent drop in the Europe, Middle East, and Africa regions, and 22 percent in the Asia Pacific region, according to Mitchell.

There's also been a vendor shakeout, with at least one significant startup calling it quits and others struggling (see Pluris Shutdown Confirmed and Rotten at the Core? ). Cisco and Juniper continue to hold sway over the top two spots, with Avici taking a distant (and by most accounts precarious) third place.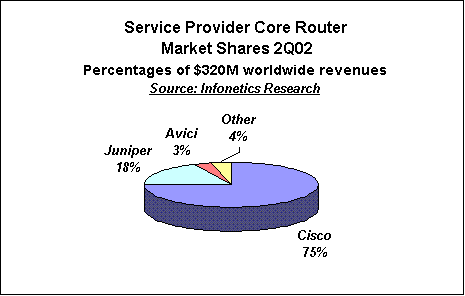 None of this is surprising, as ongoing woes in core routing have been tracked by Infonetics and others for months now (see Optical Oracle: Core Incompetence? and Report: Core Router Market Falls 22%). Yet Mitchell thinks there may be some surprises in store as the market starts moving again. "I think there's room for maybe one more key player in this market," he says.

But he's not talking new startups. Instead, he suggests that large companies that been dipping a toe in the core market while maintaining other businesses -- such as Alcatel SA (NYSE: ALA; Paris: CGEP:PA), for example -- could now stand a chance of gaining traction. Alcatel, along with NEC Corp. (Nasdaq: NIPNY) and one or two other players, now accounts for a 4 percent share of the core routing market.

Overall, core routing represents about 40 percent of the overall service provider router market, according to Infonetics. Its decline compares unfavorably with the market for service provider edge routers, which Infonetics says has been holding steady, with $471.6 million in worldwide sales last quarter (see Pluris Shutdown Confirmed).

— Mary Jander, Senior Editor, Light Reading
http://www.lightreading.com