Core Blimey!
A market perception survey published this week by
Heavy Reading
,
Light Reading
's market research division, shows that Cisco doesn't have a lot to worry about when it comes to core router competition.
Juniper Networks Inc.
(Nasdaq: JNPR), the number two player in this market, lags Cisco in terms of name recognition among service providers. And
Avici Systems Inc.
(Nasdaq: AVCI; Frankfurt: BVC7), the number three player, is a long, long way behind.
Heavy Reading
's survey asked respondents within carriers and service providers around the world to rank telecom equipment providers based on their perception of the companies in a number of categories, including:
Name Recognition
Price Leadership
Performance Leadership
Market Leadership in Product Quality and Reliability
Market Leadership in Services and Support
The entire survey, which covered 22 different product categories, drew 770 responses from 300 service providers. About 212 of those individuals answered questions regarding core routers.
For the most part, the survey results in the IP core router category were as you'd expect, as the sentiments of service providers mirror general market trends. Namely,
Cisco Systems Inc.
(Nasdaq: CSCO) got top scores in three main categories: name recognition, quality and reliability, and service and support. This makes perfect sense, given the company's dominance of the core router market. In the second quarter of 2003, it had about 74 percent market share, according to
Synergy Research Group Inc.
(see
Reports: Router Sales Grew in Q2
).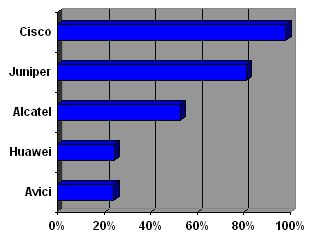 Juniper, which had 22 percent market share in Q2, beat out Cisco in two other categories: price and performance. But the company clearly has some work ahead of it, especially when it comes to marketing. Juniper's overall recognition rating (81.1 percent) suggests that nearly one in five service providers don't even know the company sells core routers.
"It's tough to believe that a service provider wouldn't know one of the two main suppliers of core routing gear," says Stephen Kamman, an analyst with
CIBC World Markets
.
Juniper is especially challenged when it comes to targeting regional Bell operating companies (RBOCS). Only about 76 percent of respondents from this group recognized Juniper as a core IP router vendor. This is puzzling, considering that the company has won some business for its core routers at
BellSouth Corp.
(NYSE: BLS) (see
BellSouth Unveils MPLS Backbone
). It had also been in contention for business at
Verizon Communications Inc.
(NYSE: VZ) (see
Juniper Loses Ground to Cisco at Verizon
). The company seems do much better among competitive local exchange carriers (CLECs), according to the survey. About 93 percent of those respondents recognized Juniper as a core router player.
The news is even worse for Avici, which has been shipping its flagship core router for the past four years. The company places fifth behind
Huawei Technologies Co. Ltd.
and
Alcatel SA
(NYSE: ALA; Paris: CGEP:PA). This is especially interesting, as Huawei is actually reselling Avici's core router in China (see
Avici Joins Huawei for China Push
).
Avici has struggled every quarter to make gains against its two main competitors, Cisco and Juniper. In the second quarter of 2003, the company had about 2.8 percent of the market, according to Synergy Research. According to the
Heavy Reading
report, three out of four respondents did not even identify Avici as a core router maker.
By contrast, Alcatel appears to be gaining recognition in this market segment despite its late entry into the field. Overall, more than twice as many respondents identified Alcatel as a core router vendor than Avici. Alcatel also received higher scores than Avici for performance, quality and reliability, and service and support. Service providers' perceptions seem to make sense, given the company has increased its market share to 2.9 percent in the second quarter of 2003, up from 1.6 percent in the first quarter, according to Synergy.
Huawei, which has traditionally been weak in IP switching and routing, is recognized as the price leader. Although only 24.5 percent of all respondents recognized Huawei as a core router vendor, 23.4 percent of those who rated suppliers on price named Huawei as the leader in that category. Not surprisingly, Huawei pulled in its strongest ratings in Asia/Pacific, where it edged out Alcatel for third place overall.
Detailed information on the IP router market along with 21 other product categories including metro Ethernet equipment, multiservice edge switches, edge routers, and broadband remote access servers, are also included in the report, entitled
Heavy Reading 2003 Telecom Equipment Market Perception Study
.
— Marguerite Reardon, Senior Editor,
Light Reading
To learn more about the report, including selected excerpts, please go
here
.
The
Heavy Reading 2003 Telecom Equipment Market Perception Study
is priced at $4,950, and includes access to an online database allowing further analysis of all survey results according to search criteria such as geography, customer type, and respondent job title.

The product categories covered in the survey are:
Sonet and SDH Multiservice Provisioning Platforms, Metro Ethernet Equipment (including a separate study of Packet Ring Technology), Ethernet Access Equipment, 10-Gbit/s Ethernet Switches, Core Routers, Multiservice Switches, Edge Routers, Broadband Remote Access Servers, DSL Access Multiplexers, Equipment for Cable/MSO Networks, Third-Generation Digital Loop Carriers, Access/Metro DWDM Systems, Long-Haul DWDM Systems (including separate studies for terrestrial and submarine systems), Optical Switches, Softswitching/VOIP Equipment, IP Service Controllers (including separate studies for content switches/load balancers, traffic management devices, session controllers, and route optimization devices), Test Equipment, Fiber Access Equipment, Free-Space Optics, Broadband Home Gateways, Integrated Access Devices, and Video-Over-IP Equipment.
EDUCATIONAL RESOURCES


PARTNER PERSPECTIVES
- content from our sponsors