NEW YORK -- Though conserving cash is en vogue, Mike Volpi, senior VP of the Internet Switching and Services Group at Cisco Systems Inc. (Nasdaq: CSCO) says continued investment in innovation in new markets like wireless is the only way to win in the networking equipment market. And while startups may have new products and new ideas, Volpi says the long-term advantage will go to large companies with billions of dollars in product shipments.

Volpi's words are hardly surprising, given he's the man who helped Cisco feast on a steady stream of startups in the past few years. Under Volpi's direction, if there was any market where Cisco couldn't develop a sustainable technological advantage, it would haul out its massive checkbook and buy one.

The networking equipment market -- like the aircraft manufacturing space -- has matured to the point that a significant level of investment is required just to be competitive, said Volpi, who spoke Wednesday at the Salomon Smith Barney technology conference in New York. Due to a lack of product volumes, six main aircraft builders eventually shrank to two, one of which is government subsidized, he said.

No one at the conference challenged Volpi's logic when he said that an industry building machines for "carrying passengers" 30,000 feet in the air was somehow akin to an industry building boxes for "carrying bits of data" through enterprise networks. His larger point was that Cisco will remain a dominant networking equipment maker because, given its huge revenues, it can invest more in new technology than its competitors can.

Volpi underscored the message by quoting Cisco Chairman John Morgridge, who once said that the best way to sell routers is to sell more routers. [Ed. note: Didn't he steal that from Yogi Berra?]

Why would it be so tough for a startup today to be the next Cisco? To build the equivalent to Cisco's Catalyst 6500 switch today -- with its custom designed ASICs and proprietary operating system -- a startup would require more than 800 engineers if it attempted to accomplish the feat in two-years time, Volpi claims. Again, the logic seems shaky, but the overall point is that one of the main things sustaining Cisco is its existing market dominance.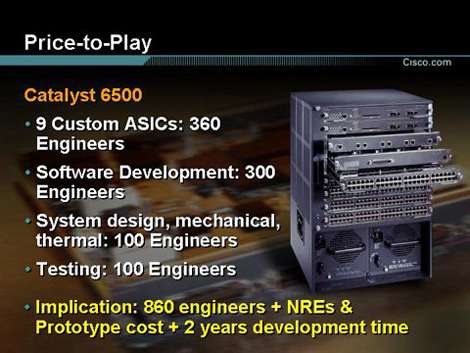 In recounting the success of Cisco's Catalyst switch, Volpi pointed out that if a customer had purchased a Catalyst chassis back in 1997, it could still be in place today after line-card upgrades and other improvements over the years. The kind of technology customers want, Volpi said, is "evolutionary, not revolutionary." (The audience of mostly financial types wiggled their opposable thumbs in agreement.)

Coming up in 2003, the Catalyst will have a capacity of 640 Gbit/s and will support IPv6 and MPLS, Volpi said. Volpi compared that with the 256-Gbit/s capacity that the switch held just two years ago to show that Cisco's investments in technology do pay off for customers.

Cisco told Unstrung last week that it has a version of the 6500 intended for use as a "wireless router" [see Cisco's Wireless Wait). However, the firm is still waiting for carrier customers to put their hands in their wallets and place some orders for the darned thing.

Some in the industry have asserted that eventually systems makers will use off-the-shelf components and will compete on price and service (see Intel: Comm Chips Commoditizing). Volpi, however, argued that vendors that don't differentiate will only address a niche of "cost sensitive" customers. Further, he asserted, Cisco's chips are as advanced as any in the market today.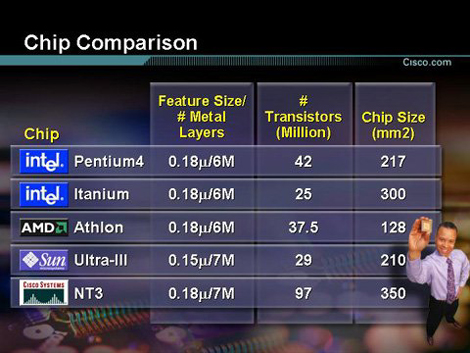 However, as the market's dominant switch provider, Cisco must expand into new markets -- such as storage networks and wireless LANs -- lest its business become saturated. "Our ability to grow [Cisco's enterprise business] depends on the general economic recovery."

That said, Cisco's willingness to spend on innovation in order to fend off competition isn't at all bad news for startups. As some 78 companies have learned since 1993, if you can't outrun the market leader, you can always cash one of its checks and change uniforms.

— Phil Harvey, Senior Editor, Light Reading
www.lightreading.com