3:00 PM -- After sitting through a demo of Nortel Networks Ltd. 's telepresence service, I thought it would only be appropriate to see firsthand what its likely primary competition looked like. (See Nortel Trumps Cisco?.) So yesterday, I headed to Cisco Systems Inc. (Nasdaq: CSCO)'s New York office to check out its telepresence offering.

It probably won't come as a surprise that I found Nortel was not as far ahead of the game as it claims to be. I do agree with Nortel that its room delivers a more realistic experience than does Cisco's. Nortel's video screens were built nicely into the room and its camera placement behind the screens was also a nice touch.

But where Cisco scores big points is the near zero audio latency. During my meeting with Cisco's Erica Shroeder in San Jose, I found that Erica would react to whatever I said immediately after I was done speaking, whereas with Nortel's service there was a noticeable delay in response.

Based on that, while Nortel's service is flashier, Cisco's does seem to work a little bit better based on my own limited experiences. But a true verdict can only be determined by those who use the services regularly. Please feel free to share your experiences if you are one of those people. And check out the pictures below of Cisco's telepresence room in New York.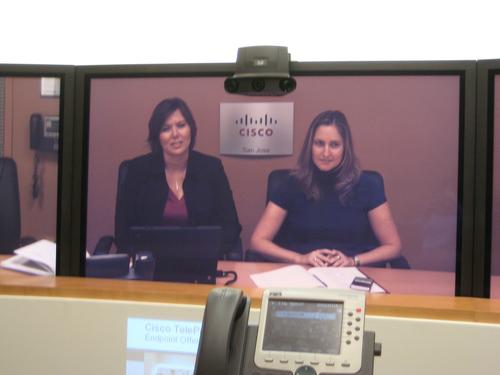 — Raymond McConville, Reporter, Light Reading