3:10 PM -- Cisco Systems Inc. (Nasdaq: CSCO) earnings should be business as usual when the company reports this evening. Analysts universally expect revenues at the high end of Cisco's given range of $9.2 billion to $9.3 billion. Most of them say Cisco should beat earnings by a penny, which is kind of like predicting the sun will shine in California. (It's been overcast this morning, but let's ignore that.)

Betcha John Chambers says "collaboration" and "Web 2.0" a whole bunch during the call, too.

Cisco investors have to be happy that the stock has at least responded to the strong earnings. Shares are up about 68 percent from a year ago (but only 50 percent from about Aug. 10 of a year ago; Cisco enjoyed an earnings bump last August). Why, in just the past six months, Cisco has...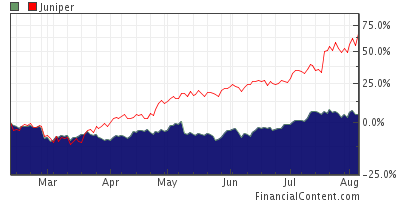 Huh. Guess it's up only 4 percent for the past six months. And that jagged red line, that's Juniper Networks Inc. (NYSE: JNPR).

OK, I'm being disingenuous. Cisco hit a relative high six months ago. The two-year graph gives you: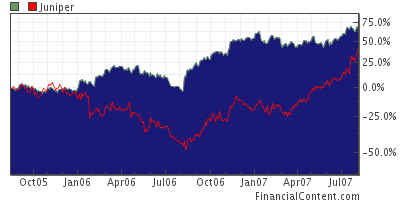 Juniper isn't underwater there, it's just climbed less well than Cisco. Anyway, it's Juniper that's really broken free in the past 12 months, up to the $32 range from $13 last summer.

Cisco's call is at 1:30 p.m. PT. See you there.

— Craig Matsumoto, West Coast Editor, Light Reading