With the chaos in the industry getting worse by the day, it may be difficult to picture what the market will look like once the telecom typhoon has passed.

In its latest report, Light Reading's paid research service, Optical Oracle, has attempted to tackle this daunting task. Ranking 26 companies based on both financial and qualitative merits, the report pinpoints which companies are best positioned to take the lead in a telecom recovery (see Light Reading Looks at Likely Leaders).

And the winner is (drumroll...) Cisco Systems Inc. (Nasdaq: CSCO).

"Cisco is in a position to become a dominant provider and consolidator of technology in the communications space, if it so chooses," states the report, titled Top Recovery Candidates. "It will clearly be an acquirer of important assets and business lines in the market."

While Cisco's market dominance should come as no surprise, some of the runners-up were less expected. QLogic Corp. (Nasdaq: QLGC), a storage networking technology provider, finished a close second, followed by Broadcom Corp. (Nasdaq: BRCM), Brocade Communications Systems Inc. (Nasdaq: BRCD), and Advanced Fibre Communications Inc. (AFC) (Nasdaq: AFCI). (Next week, we'll tell you the bottom five on the list).

But if you were expecting any of these companies to jump out of the fire and lead the way to salvation any time soon, you're probably setting yourself up for disappointment. The report states that there may not be a meaningful uptick until late 2003 and 2004, and that capital spending won't hit bottom until 2005. Still, there is room for optimism.

Since much of the phony bubble business is in the process of disappearing, what we'll be left with when the shakeout is over will be "real business" with the promise of "real revenues." The pie may be smaller when the market finally turns around, but there will be fewer and better companies competing for the parts of what still will be a multibillion-dollar market.

"What's surprising is the number of unprofitable companies out there," says research analyst and author of the report Chris Bulkey. "But then, some companies are doing quite well. They're really differentiating themselves from the competition. They'll be the ones to survive."

Other companies ranked in the report are:


Agere Systems (NYSE: AGR),
Agilent Technologies Inc. (NYSE: A),
Altera Corp. (Nasdaq: ALTR),
Applied Micro Circuits Corp. (AMCC) (Nasdaq: AMCC),
Ciena Corp. (Nasdaq: CIEN),
Corning Inc. (NYSE: GLW),
Corvis Corp. (Nasdaq: CORV),
Extreme Networks Inc. (Nasdaq: EXTR),
Foundry Networks Inc. (Nasdaq: FDRY),
Harmonic Inc. (Nasdaq: HLIT),
JDS Uniphase Corp. (Nasdaq: JDSU; Toronto: JDU),
Juniper Networks Inc. (Nasdaq: JNPR),
Lucent Technologies Inc. (NYSE: LU),
New Focus Inc. (Nasdaq: NUFO),
Newport Corp. (Nasdaq: NEWP),
Nortel Networks Corp. (NYSE/Toronto: NT),
PMC-Sierra Inc. (Nasdaq: PMCS),
Sycamore Networks Inc. (Nasdaq: SCMR),
Tellabs Inc. (Nasdaq: TLAB; Frankfurt: BTLA),
Veeco Instruments Inc. (Nasdaq: VECO), and
Xilinx Inc. (Nasdaq: XLNX).


The ranking first considered financial metrics like sequential revenue growth, profit margins, inventory management, and debt levels. To be considered for the list at all, component and equipment vendors had to meet minimum financial requirements, having at least $200 million market capitalization and no imminent possibility of bankruptcy.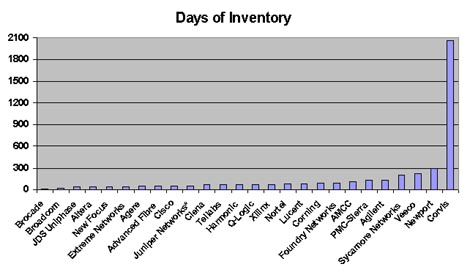 The financial rankings were then combined with a survey of eight editors and analysts from the Light Reading Inc. family, which includes Light Reading, Byte and Switch, and Unstrung. They were asked to rate the companies with an "X-Factor" that takes into consideration such elements as management team, product strategy, and brand.

The current report is available to annual subscribers, who receive 12 months of access for $1,250; or a single-user license can be purchased for Top Recovery Candidates only, for $400. For more information about the report or to subscribe, go to: www.opticaloracle.com.

— Eugénie Larson, Reporter, Light Reading
www.lightreading.com Editor's Note: Light Reading is not affiliated with Oracle Corporation.