SAN FRANCISCO -- Why is Cisco Systems Inc. (Nasdaq: CSCO) bothering to protest the Microsoft Corp. (Nasdaq: MSFT) acquisition of Skype Ltd. ? It's partly because Microsoft isn't being held to the standard that Cisco was when it bought Tandberg, Cisco CEO John Chambers said Wednesday.

The European Commission tends to be a stickler about things like proprietary technologies, so the Tandberg purchase came with a pledge that Cisco would stick to open standards. Cisco thinks it's only fair Microsoft would have the same restriction with Skype, Chambers said. (see Cisco Challenges Microsoft/Skype Deal .)

"That is very similar to what was asked of us when we acquired Tandberg, and candidly, Microsoft is one of the ones that asked that of the Commission," Chambers said.

His comments were part of a roundtable session Chambers held with trade-media editors Wednesday -- over telepresence, of course.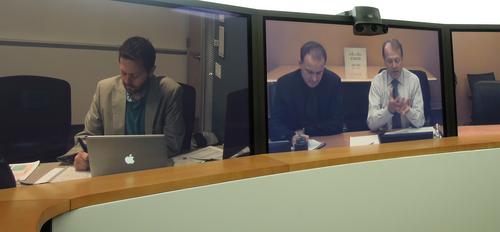 Chambers also said Cisco had its chance to buy Skype, some time ago. But there was no way Cisco could have appeased service providers over that deal.

"I can say it now: We had a chance to make that acquisition a very long time ago, and we felt that it would be difficult for our service provider customers to both understand and to benefit from," Chambers said. "We are believing the service providers will be a key differentiator in the market for how all types of services, especially video, will occur."

But getting back to Microsoft's situation, Chambers repeated the Cisco mantra about sticking to open standards -- something the company would have done even without the EC's prodding, he said. Cisco just wants Microsoft to make the same pledge, because intervendor interoperability is something the customer base is going to demand, he said.

"We clearly thought that we were going to be able to arrive at a compromise with Microsoft," he said. "Obviously that did not occur."

Separately, Chambers said he expects Cisco to become more of a software company over the years -- a theme he's mentioned before. Even so, that software has to be tied to services and application-specific integrated circuits (ASICs), so Cisco will continue to design some of its own chips, he said.

Chambers also had a few things to say about whether Cisco might sell its set-top box business. He, uh, doesn't seem to like the idea. (See Why Cisco Wants Out of Set-Tops (Or Not).)

— Craig Matsumoto, Managing Editor, Light Reading