SAN JOSE, Calif. -- Capitalizing on what's been a good year, Cisco has big plans to seize even more of the networking and communications sphere, CEO John Chambers said at the company's C-Scape Global Forum analyst conference here today.

Granted, he says that sort of thing every year, as he walks the aisles in that oh-so-friendly way of his. But the tone got a little tougher this time, a reflection of the confidence Cisco exuded during its recent earnings call. (See Chambers Strolls the Crowd and Cisco Soars in Q1.)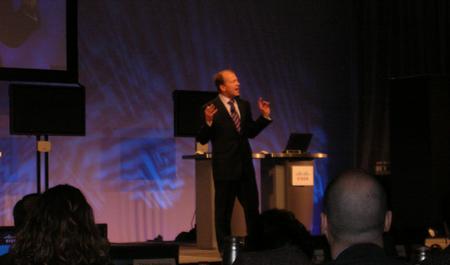 "You're now going to see us get more aggressive," Chambers said. "The opportunity to be the major company in communications and IT is in front of us."

(It's worth noting that Cisco didn't have any major product or architecture announcements to show off at the conference, giving Chambers more time to cruise in "big picture" mode.)

Cisco wants to roll out three new advanced technologies every year, he said. These would join the pool of technologies Cisco considers to have $1 billion-a-year potential, such as storage networking and home networking. (But, uh, not optical -- see Sources: Cisco Rejects Optical Bids.)

Apparently, $1 billion is small potatoes, though. This time, Chambers started talking about $10 billion markets for Cisco, in areas like the next-generation data center or "unified communications systems," which would put video from any application onto any device.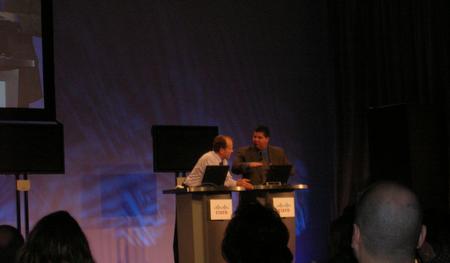 And more are to come, Chambers hinted. "We've already placed some senior time and talent on three to five opportunities that could be $3 billion to $10 billion," he said.

Cisco does want to develop new technologies, and not just by acquiring things. Chambers said the company has created several internal startups to pursue what it calls "emerging technologies." These startups get their own resources, including sales, marketing, and IT staffs -- like a more overt version of the spin-in idea.

"We've really focused a lot of attention on this," said Charles Giancarlo, Cisco's chief development officer, in the talk following Chambers's. "We have actually structured the company differently to make sure we can go to market and scale these technologies."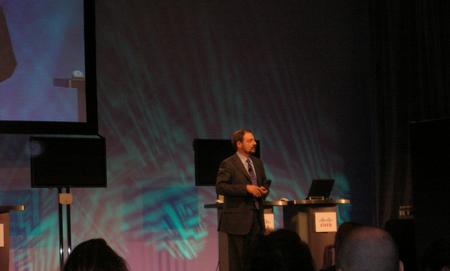 Chambers mentioned few products by name, instead focusing on "architectures." That's the way customers prefer to hear Cisco talk, he said, adding that the concept helps promote the creation of more all-Cisco networks.

Chambers claimed the use of one vendor as a "lead partner" lowers costs and builds efficiency for the customer -- as opposed to the older model, where companies would pit two vendors against each other to drive prices down. "Those days are over. So, the real question is, can you earn the trust of your customers to do this?"

(Chambers was probably talking more about the enterprise case than about service providers, analyst Mark Seery of Ovum RHK Inc. points out. Prominent carriers such as BT Group plc (NYSE: BT; London: BTA) and Deutsche Telekom AG (NYSE: DT) still seem to want multivendor deployments.)

This "lead partner" idea is something Chambers has touched on previously, preaching Cisco's ability to coach customers through business process changes. This lets them use the network more effectively and, of course, gets them to buy more network gear. (See Cisco Rolls Out Roadmaps.)

Chambers kicked off his talk with a long discussion of Cisco's work in emerging markets, particularly in Asia. India, specifically, is going to get a lot of high-level attention, given the massive investment Cisco is placing there. (See Cisco Hearts India.)

"We took one of our top five executives, and he is moving his family there," Chambers said. Within a few years, he expects 20 percent of the company's top ranks to be working from the Globalization Center in India.

— Craig Matsumoto, Senior Editor, Light Reading