SAN JOSE, Calif. -- Cisco Systems Inc. (Nasdaq: CSCO) stopped calling it an "analyst day" a couple of years ago -- now its annual press-and-analyst gathering, which ended Wednesday, is known as C-Scape.

It sounds like a romantic vacation getaway, but it's about being in auditoriums or meeting rooms for two days, sometimes peeking out the windows at San Jose's "Christmas in the Park" fair going on across the street.

Still, Cisco pulls out all the stops. Most of the top executives attend, and reporters even get to talk to some of them. The demo this year involved live TelePresence -- with live glitches. (See Cisco Fumbles Kickoff and Cisco Fumble II.) And the coffee's actually good.

Cisco Webcasts the whole thing, but we've got a slide set to give you an idea of the atmosphere.

Photos courtesy of Kimberly White/Getty Images.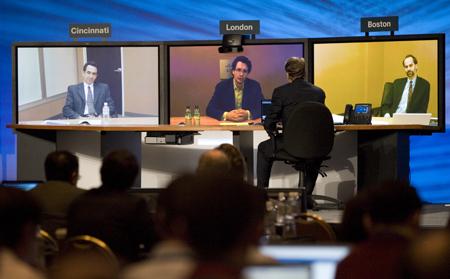 — Craig Matsumoto, West Coast Editor, Light Reading