Cisco Systems Inc. (Nasdaq: CSCO) next week will announce significant upgrades to its edge and access routers, morphing the machines into broadband remote access servers (B-RAS), sources say.

In fact, with other vendors, such as Redback Networks Inc. (Nasdaq: RBAK), expected to announce B-RAS developments, the category is already shaping up to be the toast of Supercomm 2003, taking place in Atlanta next week.

The specifics of Cisco's announcements aren't known yet, and the company declined to comment. Cisco already has B-RAS functions working in its 6400 Broadband Aggregator. It also has two groups of products designed for collocation with DSLAMs (DSL access multiplexers): The 7400 series router and the 7200 series router. The 7200 can handle up to 16,000 user sessions, but both are designed to be collocated with DSLAMs. Cisco is also adding B-RAS capabilities to its larger 10000 Series edge routers, which are already built to handle several kinds of high-density, dedicated-access services (see Evolving SDH with IP, DWDM, ATM, Gb/E in the Multiservice Network).

Why all the focus on B-RAS? The B-RAS feature set, whether integrated into an edge router, a DSLAM, or a standalone platform, plays a crucial role in easing one of the service provider's most serious points of pain in the access network. The B-RAS's emergence as a strategic platform was detailed in a recent Light Reading Insider (see Getting a Bead on B-RAS ).

The B-RAS isn't just about subscriber management, where users are given password-protected access to the services they pay for via VPNs or static tunnels. With services such as telephony, TV, radio and video-on-demand (VOD), and video conferencing all beckoning deployment, the B-RAS also requires sophisticated multicasting and quality of service (QOS) features.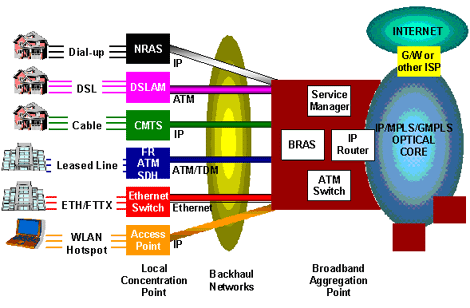 A key debate in the B-RAS wars is where in the network to put the functionality. For example, does it go in the edge router or does it cohabitate with the DSLAM?

In the Light Reading Insider's review of B-RAS products, neither Cisco nor Redback came through with flying colors, based on the product information available at the time of the report. Other B-RAS competitors -- like Juniper Networks Inc. (Nasdaq: JNPR), Network Equipment Technologies Inc. (net.com) (NYSE: NWK), and CoSine Communications Inc. (Nasdaq: COSN) -- beat them in key areas of functionality. However, no single vendor appeared to have every B-RAS feature that a service provider could want in a single package. Come Monday, things may change. Both Cisco and Redback look to have something up their sleeves -- and Cisco's sleeve, obviously, is wrapped around a lot more market muscle.

— Phil Harvey, Senior Editor, Light Reading

For extensive and up-to-date coverage of next week's Supercomm tradeshow, visit Light Reading's Supercomm Preview Site.