Talk about a potential contract helped vault Ciena Corp. (Nasdaq: CIEN) to the top of the Nasdaq 100 as the top percentage gainer on the day.

Hang on! Is that the same Ciena that gave a poor showing in last week's financials? (See Ciena Loses More, Spends More.)

Indeed it is. Forget the earnings. Word has it Ciena's in line for a couple of important North American contract awards. In a note today, UBS Investment Research moved Ciena stock up two notches to a Neutral 2 rating and raised its stock price target from $4.60 to $5.50, citing "our belief that the company is on the short list for two large optical long-haul contracts that have $200M in revenue opportunity in calendar 2004."

UBS stressed that the move still represents a Neutral rating for Ciena, based on the gap between the chances of winning two contracts or losing two. Still, Ciena stock rose $0.38 (6.6%) to close at $6.18.

According to analyst Nikos "Neutral" Theodosopoulos and colleagues, one of the Requests for Proposal (RFPs) Ciena's pursuing is the Grid Bandwidth Expansion Project (GIG-BE), an optical network proposal from the U.S. Defense Information Systems Agency (DISA) -- which industry sources have scanned, scoured, and handicapped for weeks (see Analysts Narrow RFP Odds).

The other RFP is less well known. UBS says MCI's (Nasdaq: MCIT) board has approved a two-year, $200 million, long-haul networking buildout. The project is meant to "eliminate the multiple disparate networks that currently comprise the MCI backbone," the analysts say. Ciena and Siemens AG (NYSE: SI; Frankfurt: SIE) have been shortlisted over incumbent MCI suppliers Fujitsu Ltd. (OTC: FJTSY) and Nortel Networks Corp. (NYSE/Toronto: NT).

Another source, who asked not to be named, says MCI indeed has a long-haul RFP out, as well as a bid for a 1,000-port optical switching system with Sonet STS1 channel management. While this is something no vendor offers right now, it conceivably could be an incentive for development by Ciena and others later on.

So what's not to love here? For one thing, the RFPs may not come to pass -- or they may prove to be much smaller in value. Carriers are notoriously fickle when it comes to these bids, and in the case of MCI-WorldCom-Whatever, there are, to put it mildly, other complications (see The Week at WorldCom: Chapter II and WorldCom Lashes Back).

Another risk is that Ciena may not take the prize. While most analysts think Ciena's a hands-down winner for the GIG-BE optical crossconnect tranche, others have cautioned that the deal won't be "done until it's done." There are, after all, a slew of vendors involved, some of which appear to be demanding reconsideration in the GIG-BE lab trials.

MCI's RFPs give even more cause for concern. The bids, or what we know of them, mimic an RFP for long-haul equipment put out earlier this year by AT&T Corp. (NYSE: T). In that situation, word was that Siemens, not Ciena, won the bid, reportedly displacing Corvis Corp. (Nasdaq: CORV), Lucent Technologies Inc. (NYSE: LU), and NEC Corp. (Nasdaq: NIPNY), among others (see More Missives on AT&T's Long Haul ). This could conceivably happen again.

A final concern has to do with the actual value the deals are likely to deliver. At least one analyst says he's not sure about the MCI gig, but GIG-BE, even if a solid win for Ciena, may not be a financially big one. Of course, says Rick Schafer of CIBC World Markets, "Investors are so amped up on GIG-BE, it will be an enormous psychological win."

But Schafer points out it's likely to represent $50 million over two years -- not enough to really make a huge difference. "Ciena's reporting about $70 million per quarter, but it's got to make three times that to reach breakeven," he asserts. "Fifty million over two years is nice, but..."

Schafer says it's important not to allow the current upward financial movement to mask the underlying stasis. While things are looking much better, it's good to keep in mind that both UBS and CIBC maintain a Neutral rating on Ciena's stock. UBS also stresses in its note today that the vendor's share price will stay volatile for the rest of the year.

Still, in a market starved for signs of hope, investors seem heedless of the caveats, at least for today.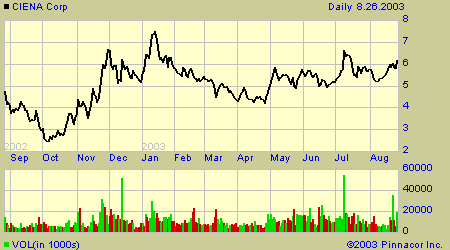 — Mary Jander, Senior Editor, Light Reading