Ciena Corp. (Nasdaq: CIEN) unveiled a new marketing image yesterday, complete with a fancy new logo and a new marketing catchphrase: "Network Specialist."

What's it all mean? It's quite simple, really: Ciena is taking a different road than Alcatel SA (NYSE: ALA; Paris: CGEP:PA), Lucent Technologies Inc. (NYSE: LU), Motorola Inc. (NYSE: MOT), and the other big equipment vendors that have positioned themselves as end-to-end integrators.

Ciena, instead, is trying to show that it is more than a core optical transport company. It has, after all, made six acquisitions in four years in an effort to sell a broader range of telecom products. But it won't be all things to all carriers.

"Ciena's belief is that they have put together a good broad product portfolio, but that they have been pigeonholed by everyone, including customers, as an optical transport company," says Doug Green, principal with the Bradam Group LLC, a telecom equipment consultancy.

"I do believe that some of their acquisitions have been good companies, and the marketing message is an important part of fixing the perceptions."

A new marketing strategy was to be expected; it follows big changes in Ciena's marketing department (see Job Count Friday). Several weeks ago, Laura Howard took over as its new senior VP of marketing, and Suzanne DuLong, former VP of investor relations, took the position of chief communications officer. Both executives report directly to CEO Gary Smith.

It's also not surprising that the changes are coming now, as pressure mounts on Smith to turn things around, following a year of disappointing financial results and a drooping share price (see Will Ciena Change at the Top? and Ciena Dips as Losses Widen).

Here's the new spin, through the official channels: Ciena officials say they're now using a wider product line to solve network problems. They'll also work on business cases for putting packages of its products together to save customers money.

"We're taking more of a focus on the business value proposition," says marketing VP Howard. "The big shift is to work with customers to understand their businesses and reposition technology to see how their business benefits from it."

In addition to clarifying the product positioning, there may be another important message Ciena hopes to transmit to customers: It's ready to pull all the pieces together and start executing.

"As we execute, people are going to understand our products in the application space," says Bob O'Neil, vice president and GM of Ciena's data-networking group (formerly WaveSmith). "It has changed so dramatically from what we were. Better than 50 percent of our product revenues are coming from new areas, and the company has a very different look."

What's the whole thing mean for Ciena's product and marketing groups? Structurally, Ciena officials could not point to any big changes in the company's organizational charts. But they did detail how Ciena's now considerable lineup of products fit together. The products are grouped in three main technology areas:


Broadband access: Includes the Catena products, among them the CN 1000, CNX 5, and CNX 100
Enterprise aggregation: Such as the CN 2000, CN 2600, and CN 4300
Core and metro networking: Core telecom products such as CoreDirector and CoreStream; metro networking products, including the DN 7000 series and MetroDirector
These three product groups will now be the focus of Ciena's technology sales pitch. Ciena officials also stress that there is a new emphasis on looking at the services market and putting together a package of products for specific customer applications.

Another stated goal of Ciena's broader marketing mission is to sell a wider range of products to its current customers. For example, Ciena points out that whereas Verizon Communications Inc. (NYSE: VZ) was once only a core networking customer, it now buys optical transport, Layer 2 switching, broadband access, storage extension, and services from Ciena.

"We want to see increase of product depth per deal," says Howard.

A Verizon spokesman declined to comment on Ciena's new marketing strategy.

Meanwhile, Ciena's larger competitors, such as Lucent and Alcatel, are eyeing broader reseller agreements and large integration contracts. (See Mais Alors! Alcatel Bags $1.7B SBC Deal , Alcatel Shows Off Tropic Tech, Lucent Offshoring Wave Hits Hard, Lucent Adds Riverstone to Roster, Lucent Targets Fed Deals, Lucent Scores $5B Verizon Deal.)

Ciena officials say the company may beef up its services organization to help customers with support, but it's not focused on bidding on integration contracts. The plan is to focus on its own product portfolio.

Ciena says it is confident in its product mix because the bulk of new growth in the telecom market is coming in deploying services at the network edge and access areas, both in residential and corporate markets. After buying a collection of broadband access gear and multiservice data networking products, Ciena believes it's equipped to attack this market.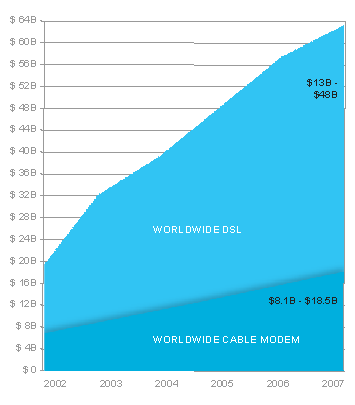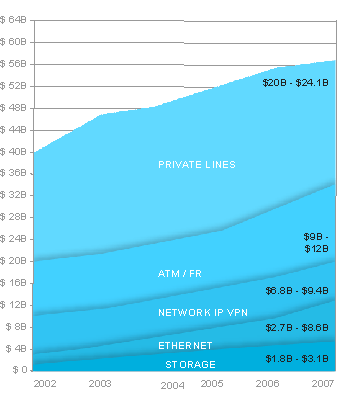 Ciena is even so bold as to talk about selling its products directly to enterprises -- a strategy that could come into conflict with its core service provider customer base. Howard says this could yield some surprises in the next month or so:

"You will see some news from the enterprise areas -- for example, in the Fortune 500 retail, financial, and education markets. One of the things that's driving that is the price point of carrier-class equipment is coming to where enterprises can afford it. They've not been please with the managed services they're getting."

Another way to look at Ciena's strategy is to see what it's not doing. "We're not going after the generic access market such as IP DSLAMS," says Howard. "We're not looking to be an enterprise router player. We're not looking to be a core router player."

Some analysts say that most of Ciena's new moves are simply putting a new face on changes that have been going on for some time.

"To me what this is, is a public announcement of a business transformation that has been going on for quite a while," says Frank Dzubeck, president of Communications Network Architects. "When you acquire a whole bunch of companies that have nothing to do with the space you're in, you take on a different persona."

Of course, given Ciena's recent financial performance, it's got to start delivering on the new approach pretty quickly. It's now clear that the clock is ticking on the strategy -- and the management, as pressure grows on CEO Gary Smith to start giving Wall Street some better news (see Gary Smith: I'm OK, We're OK and Gary Smith, CEO, Ciena). — R. Scott Raynovich, US Editor, Light Reading