Network equipment vendors praying for an end to the prolonged industry downturn may have cause for quiet celebration this festive season, according to the latest Unstrung Insider report -- "Wireless Capital Spending 2003/2004."

Although 2004 is unlikely to bring a return to bygone days of hyper-growth in wireless carrier capex budgets, report author Gabriel Brown believes there are clear signs emerging that the belt-tightening of the past three years is finally reaping some reward.

"Revenues are increasing, the leaders are posting reasonable profits, and the second-tier carriers are at, or close to, profitability," claims Brown. "The result is that capex in the wireless carrier sector is stabilizing at a level that will be affordable over the long term."

Despite an almost 19 percent decline in total capex in the six months prior to September 2003 (as shown in the diagram below), Brown argues that carrier plans for network rollout next year should help ensure a "solid, predictable year" for equipment vendors.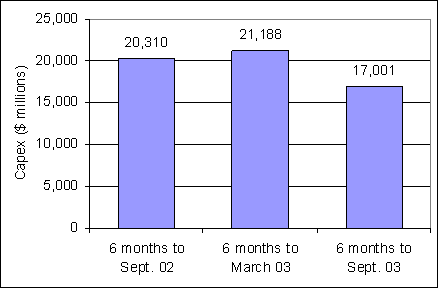 Japan's NTT DoCoMo Inc. (NYSE: DCM) is forecast to spend $3.5 billion on 3G in the current financial year, while China Mobile Communications Corp. will part with a whopping $15 billion on network infrastructure between 2003 and 2005. Europe is also expected to witness a surge in 3G rollout, with carriers talking up a big push for network launch in the second half of 2004.

"The impact of this on network equipment suppliers is huge, because it brings a sense of stability to the market after a period of turmoil," says Brown.

Not that the likes of Nortel Networks Corp. (NYSE/Toronto: NT), Nokia Corp. (NYSE: NOK), LM Ericsson (Nasdaq: ERICY), and Alcatel SA (NYSE: ALA; Paris: CGEP:PA) can afford to rest on their laurels.

"On the contrary, carriers know they're still in a position to squeeze vendors where it hurts -- on pricing and upgrade commitments," adds Brown. "There is also a shift in spending patterns underway, and the trick for vendors will be to identify when and where carriers are spending cash, and what they're spending it on."

— Justin Springham, Senior Editor, Europe, Unstrung

The report -- "Wireless Capital Spending 2003/2004" -- costs $400. An annual subscription to the Insider is ordinarily $1,250, but is currently available at the special introductory price of $899. For more information, including subscription information and research examples, go to: Unstrung Insider.