NOON -- CHICAGO -- John Chambers of Cisco Systems Inc. (Nasdaq: CSCO) helped kick off NXTcomm today with his usual keynote about Web 2.0.

You've seen most of it before, in other Chambers speeches. It's kind of a mashup, which I guess is very Web 2.0 of him.

Some of the familiar points, in case you missed them from past shows:


Phase I of the Internet was about business; Phase II is about consumers and collaboration.


Ten years ago, Cisco's market capitalization was $10 billion, and its 10 or 11 biggest competitors totaled $71 billion. Today, Cisco's market cap is like $299 gajillion, and the competitors' is about 37 cents. There may be a rounding error in there.


Emerging markets rock, and to prove it, Cisco moved a bunch of guys to India.


You will be able to get annoyed by telemarketing not just through your cellphone, but on your TV as well, as targeted advertising learns how to IM you wherever you are. Here's chief demo officer Jim Grubb showing Chambers the ropes: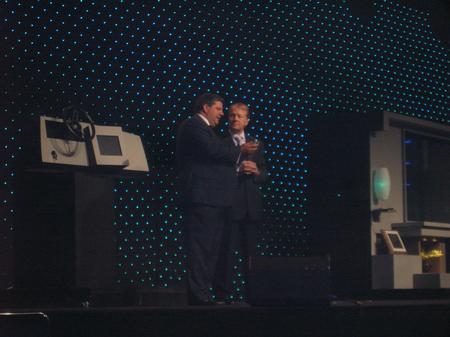 You'll also be able to research your fantasy baseball team on the TV while watching a game. Such innovations will cause 300 to 500 percent annual growth, both in networks and in the divorce rate.


To prove that all this "collaboration" stuff really works, Cisco uses its own internal wiki, called I-Zone. It's a way for employees and customers to submit ideas, especially about what Cisco's next advanced/emerging technologies should be. This one's a relatively new slide, but Chambers is recycling it from Interop.

To be fair, Chambers had a couple of points that seemed new, or maybe I'm just not recalling them from before:


He says that using this Web 2.0 stuff, they were able to negotiate the WebEx acquisition in just eight days, compared with 45 for the Scientific Atlanta deal.


While he didn't use these exact words, I believe Chambers insinuated that the Yankees suck. Moreover, the infamous Marco Scutaro home run has found its way into the Cisco demo routine. Suddenly I'm liking this Cisco Field idea. (P.S. I was at that Scutaro game. Seriously.)

Chambers was followed by Kevin Martin -- except, the Federal Communications Commission (FCC) chairman isn't here; they beamed him in via satellite (not TelePresence, sorry Cisco). The ensuing "conversation" consisted of teleprompter-aided questions asked by Walter McCormick and Grant Seifert of the United States Telecom Association (USTelecom) and Telecommunications Industry Association (TIA) , respectively -- really long questions, too, with Martin giving really short answers. It was even more stiff than the picture makes it look: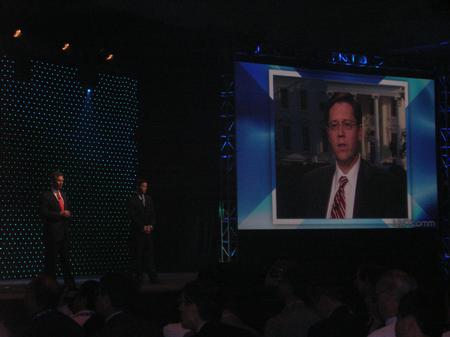 — Craig Matsumoto, West Coast Editor, Light Reading