LAS VEGAS, Consumer Electronics Show (CES) -- All the pieces are in place to allow a cornucopia of content to be delivered to multiple networked devices in the home, according to Microsoft Corp. (Nasdaq: MSFT) chairman Bill Gates.

What's lacking, though, are the connections -- between vendors as well as devices -- that are needed in order to realize what Gates calls the "digital decade."

This, in a nutshell, was the theme of Gates's presentation on the opening night of CES here in Las Vegas, and it's ground that he has covered before -- not least at last year's gadget bonanza. (See CES: Gates on 'Digital Decade'.)

Devices are "vastly improved," processors are faster, bandwidth is fatter, terabytes of storage are now available, and screen technology has taken a great leap forward, according to Gates. "The only thing missing is the connections," Gates told the massive crowd at the Venetian Hotel.

But Gates and his eager Microsoft minions have several new toys to show off that address the connection issue.

IPTV and the Xbox
The software giant demonstrated IPTV running over its Xbox 360 games console for the first time, showing off features such as switching between channels without the delays common with today's platforms. (See Microsoft Adds IPTV to Xbox.)

The system will also allow friends to network and talk together while watching TV, noted Robbie Bach, Microsoft's entertainment devices president.

IPTV for the Xbox will be available "through service providers" by the holiday season this year, according to Bach. Microsoft says it's working with five major service providers -- including AT&T Inc. (NYSE: T), BT Group plc (NYSE: BT; London: BTA), and Orange (NYSE: FTE) -- as well as 14 other companies on IPTV.

Bringing such services to its games console makes sense, particularly as Sony Corp. (NYSE: SNE) and Nintendo have both launched new boxes recently, and all three vendors are trying to attract buyers by adding features that go beyond mere gaming. Bach says Microsoft had sold 10.4 million Xbox 360s by the end of December. The console was launched in the U.S. in November 2005.

Home Server software
Gates also had an entirely new Microsoft product up his sleeve. He showed off "Home Server" software that has been used by HP Inc. (NYSE: HPQ) for a PC tower-like box that can find, store, and stream multimedia to and from a user's PC, Xbox, and Microsoft's new Zune portable media player. It also allows the content to be accessed remotely. Advanced Micro Devices Inc. (NYSE: AMD) and Intel Corp. (Nasdaq: INTC) are among the other companies working with the software.

"We think this is a category that will explode in importance," stressed Gates.

In Sync with Ford
The mobile highlight of Gates's address came from an unlikely source -– Microsoft's partnership with the Ford Motor Company. The pair have developed a system, called "Sync," that will debut in Ford's cars this year.

It appeared, from the limited information given, at least, to be the most sophisticated Bluetooth-based car communications system yet developed. Sync not only pumps voice calls through the car's audio system -- it also allows users to control the phone and any MP3 players they plug in via voice commands.

Otherwise, Microsoft did not appear to have much to say on the mobile front. "We outsell BlackBerry in the market," Bach claimed, but didn't have much more to add.

The firm's new Zune WiFi-enabled music player has a formidable opponent in the MP3 market, the omnipresent iPod. "We're already number two in our segment," offered Bach. "We're on track to ship and sell a million copies of Zune."

Despite the new products, however, Microsoft's collective mind was primarily focused on its new Vista desktop operating system (OS), which is due to launch in 22 days' time following a lengthy testing period and the "biggest investment ever put into a piece of software," according to Gates.

The crowd ooh-ed and aah-ed over some of the whiz-bang demos of the new OS but, as might be expected, there were no radical new features on show. Gates concentrated on displaying some of the PCs that will use Vista, including an ultra-mobile "tablet" PC from Medion.

Gates also prepared the crowd for, possibly, his final CES keynote. He has filled the spot many times but says 2008 may be his last.

"After next year, I may talk more about infectious diseases," he stated, referring to the work of the Bill & Melinda Gates Foundation, so "I don't know if they [CES] will want me."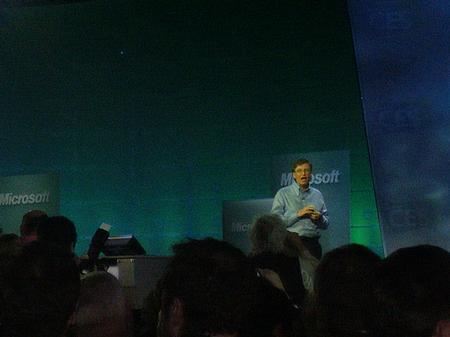 — Dan Jones, Site Editor, Unstrung