So the massive Consumer Electronics Show is over and done with for another year. We've drunk gallons of coffee, royally abused our feet, and seen enough inventive and inexplicable gadgetry to make us wonder: "Who the hell is buying all this stuff?"

Here's a quick summary:

Best Gadget: The Motorola Inc. (NYSE: MOT) Q. Beating out a host of contenders, the Q looks to have all the major features of a work and play wireless device (email, multimedia messaging, music, and video) wrapped up in a very slim package that won't feel as dorky to lift to your ear as many of today's larger smartphones.

Worst Gadget: A priceless toy for the incorrigibly lazy, the Excalibur Electronics motorized pool lounger has a pair of little joysticks on the armrests, so you can steer yourself round the pool without all the effort of gentle paddling. Now if they could just invent an automatic olive-spearer.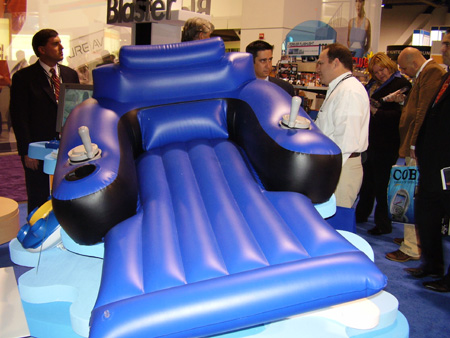 Best and Worst Transportation: Thanks to an overdose of sci-fi books as child, I've always viewed the monorail as the epitome of futuristic transportation. Las Vegas gives a little taste of this retro vision of the future with a monorail that tracks some of the major hotels on or near the strip.

Sadly, the trains themselves are definitely not made to handle the kind of crowds that CES draws. A cheerful onboard announcement informs travelers that the monorail can transport 4,000 passengers an hour. Well, there were about 130,000 people at this year's show, and pretty much everyone wanted to get to and leave the convention center at around the same time, and... well, you do the math.

Let's just say that those cars could get more initimate than the Tokoyo subway at Monday morning rush hour. But hey, what happens in Vegas stays in Vegas, right?

Best Bonhomie: Motorola's Ed Zander and Google (Nasdaq: GOOG)'s Eric Schmidt were former colleagues at Sun Microsystems Inc. , and the pair kept the banter flowing during Schmidt's brief appearance at the "Motomixer" event on Thursday night. Zander drew laughs with his persistent riffing on Schmidt's Google millions.



Worst-Dressed Booth People: The musicians on the Creative Labs stand appeared to be dressed as monks... with fake afros to boot.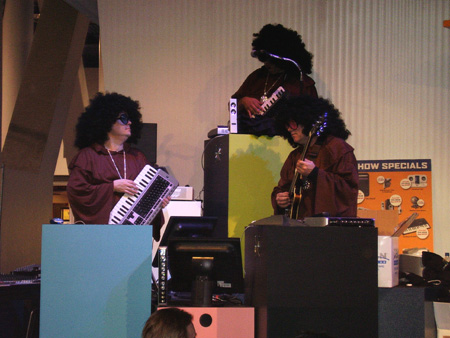 Most Powerful Wireless LAN Connection: Remarkably, there was really no such thing as a "best" WLAN at CES. As is common at tradeshows these days, so many vendors and booths were pumping out so much 802.11 that interference was a big problem.

Still, some signals are bigger than others. We don't know what access points were being used at the Palm Inc. booth, but the signal could still be picked up a good distance from the show floor.

Best Entertainer: Who else but...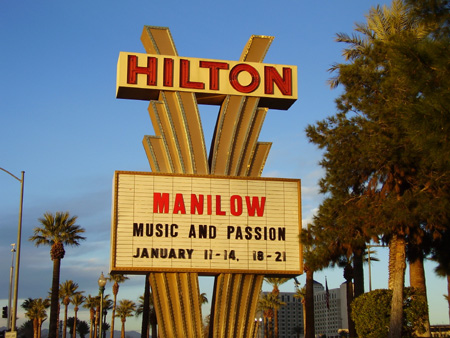 — Dan Jones, Site Editor, Unstrung