HANNOVER, Germany – CeBIT 2006 – Today is the last day of this year's CeBIT show, so it's time to see some pictures from our Mitteleuropa roadtrip.

First, the bad news. This year's show was, at best, tepid. Was it ever hot, you ask? Well, last year we managed to get some decent photos of some weird Phone Sox that made us laugh, if nothing else. And the show-ground restaurants were still full in 2005. (See CeBIT in Pictures.)

But this is 2006. The show floor was quieter, less interesting, the restaurants nearly always had free tables, and the view of many folk on the stands was that CeBIT is becoming less relevant to the telecom infrastructure players.

There's still a buzz around the mobile operators' stands and, of course, frantic activity on the significant islands of Deutsche Telekom AG (NYSE: DT) and Siemens Communications Group .

But this is increasingly a consumer show – so many mobile handsets, so many wireless LAN routers. It seems Cisco Systems Inc. (Nasdaq: CSCO) and Nortel Networks Ltd. agree. (See Cisco, Nortel: CeBIT No-Shows.)

The other things there are plenty of is widgets and, well... bits. As in, phone chargers, metal bolts, protective casings, and superhard but superlight protective rack cages. And they ain't floating our boat.

But hey, never mind the downside. This year's CeBIT had balls – really really BIG BALLS.

Why? Because this is FIFA World Cup year – that's a tournament like the so-called World Series except it's for soccer and more than two countries get to take part. And this year it's being hosted in Germany. So, whether you were outside…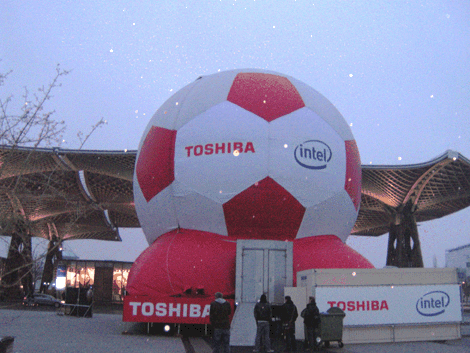 …or inside…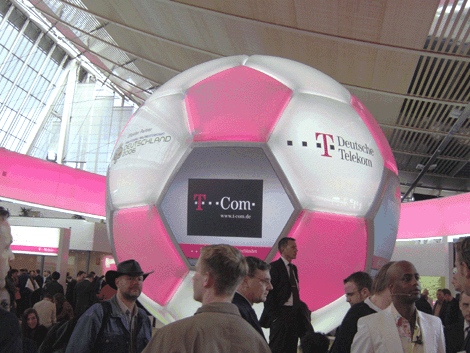 …you were never too far away from a giant football. Guess who some of the gazillion FIFA World Cup sponsors are? No prizes.

It wasn't all sport, though (unfortunately). There was music to be had, too, with Motorola Inc. (NYSE: MOT) showing today's youngsters what a classic in-car entertainment sound system should look like.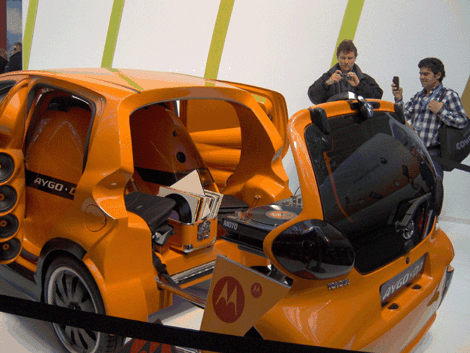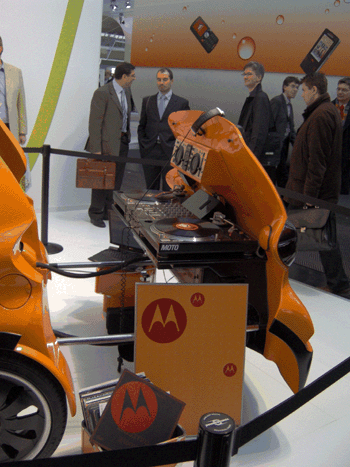 We hung around to see if anyone would ask about the round black shiny thing with grooves and a small hole in the middle… maybe this year's CeBIT crowd all still have some vinyl of their own, warping in their attics as they download some tracks onto their podules.

And finally, it's back to soccer, and perhaps the saddest moment we witnessed at this year's show. Deutsche Telekom had set up some tiny photo-opp mini booths in which kids could have their photos taken – this one was a mock up of some seats at a World Cup soccer match. But if the kids wanted in, they had to wait, 'cuz the adults wanted their turn first.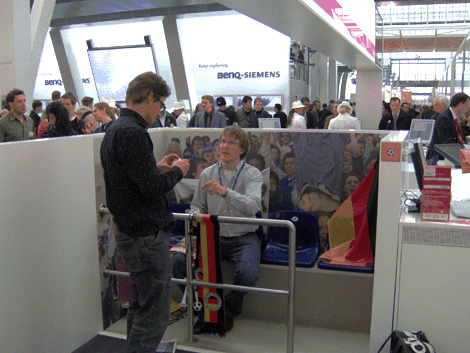 Guys, guys – get a grip!

All that said, bet we go back next year. Bring back the phone sox, we say.

— Ray Le Maistre, International News Editor, Light Reading