It wasn't what the Federal Communications Commission (FCC) 's massive annual report on the state of the wireless industry said that has wireless operators up in arms; it's what it didn't say. The 308-page report heralded the successes of the industry, but for the first time, did not conclude that it is competitive.

To support its omission, the FCC pointed out that since 2003, market concentration has increased by 32 percent. It never came out and called the market uncompetitive, but focused instead on the fact that 60 percent of the nation's subscribers and revenue come from AT&T Inc. (NYSE: T) and Verizon Wireless . They continue to gain subscribers, while Sprint Corp. (NYSE: S) and T-Mobile US Inc. continue to bleed them. (See T-Mobile Hangs Growth Hopes on HSPA+ in US, Sprint Pins Hopes on WiMax Phone, AT&T Stays Mum on Tiered Mobile Data Pricing, and Verizon Reports Q1.)

The report included a number of interesting charts depicting various aspects of the wireless industry and competition, but also demonstrated there's a number of ways to define competition.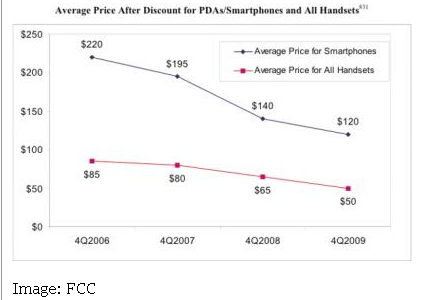 For that reason, the FCC was careful to just present the data and break down the different wireless service inputs, including spectrum, backhaul, handsets and mobile applications, but the wireless operators were equally as careful to quickly present their own definitions of competition.

Wireless industry wards off regulation
CTIA president and CEO Steve Largent sided with AT&T and Verizon, highlighting the industry's investments as evidence of competition. This included the $44 billion that the US wireless industry invested in networks and spectrum in 2008, which, Largent said, was significantly more than Germany, France, Italy, Spain, and the UK combined invested.

"We are very concerned, however, about the potential misuse of 'policy levers' that are referenced in the Report and believe that any attempt to add regulation to wireless as a result of this Report would be both misguided and harmful to consumers," Largent wrote on the CTIA blog.

Both Kathleen Grillo, Verizon senior vice president of federal regulatory affairs, and Robert Quinn, AT&T senior vice president of regulatory affairs, pointed out that the FCC has agreed with them for the past six reports and that reports of consumer satisfaction back up the competitiveness in the market. They also cited innovation in smartphones and applications as evidence of a competitive market. Quinn called the report "disappointing" and even "baffling" for contradicting its own evidence that the market is "working, delivering choices and value."

"For six successive reports, the FCC has confirmed what is obvious to any consumer who watches television, walks down a busy main street or reads a newspaper -- that the wireless market is intensely competitive, with new choices in services, applications, and devices available almost weekly," Quinn wrote.

Sprint was the only one that deviated from its larger competitors, applauding the FCC's recognition of the competitive environment. A spokesman defended Sprint's stance in his blog, cautioning that "you need to remember who owns Verizon Wireless and AT&T Mobility -- landline companies who benefit greatly from the current regulatory system."

A T-Mobile spokeswoman only deferred to the CTIA's canned comments on the matter.

Is regulation imminent?
The FCC has taken a more active interest in the wireless industry than past bodies that just rubber-stamped completion, says Craig Settles, CEO of broadband consultancy Successful.com. Chairman Julius Genachowski has been pushing for net neutrality regulation, which he believes should encompass wireless. (See FCC Chairman Defends Calls for Net Neutrality.)

The industry, meanwhile, continues to fight back against this, claiming that spectrum limitations exempt them from the rules of wired networks. As is clear in their rebuttals and definitions of competition, AT&T and Verizon fear they will be denied access to the multi-billion dollar spectrum auction planned for the end of next year. (See FCC Opens Up 25MHz in 2.3GHz Band.)

"If there wasn't the threat of net neutrality, this report would not raise as much concern and consternation in the industry as it has," Settles says. "But, because they know net neutrality is on the horizon -- they know there's a bunch of ticked-off customers driving this move toward net neutrality -- they are going into spasms. They view this thing as, if there's not competition, they will be regulated. That's straight direct line in their mind eyes, so they put forth all these talking points."

[Ed. note: This article is part one of a two-part series. Coming next: "Defining 'Competition.'"]

— Sarah Reedy, Senior Reporter, Light Reading Mobile