Carriers Fail Billing Tests

Comment (0)
Carriers worldwide may be in the initial stages of rolling out new data services through a variety of different technologies, but
Unstrung
has uncovered some concern over the strategies many players are adopting for the billing of these services.
Such fears were expressed in an audience poll taken for
Unstrung
's recent
Billing for Wireless Data Services: Carrier Strategies
Webinar, aimed at evaluating how well prepared carriers are for the future rollout of complex data services.
Fifty-three of the 114 participants (47.4 percent) felt that carriers are failing to implement the right billing strategies to help them cope with new data services. Worse still, only 15 respondents (12.9 percent) believed that carriers are on the right track: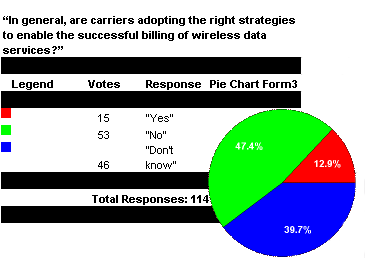 With industry players hopeful that new and complex data services will help reverse falling revenue figures from traditional voice services, the findings will be a rude wakeup call to carriers pinning their hopes on a multimedia future.
The Webinar examined how cash-strapped carriers -- stuck with existing legacy systems best suited to a voice-only environment -- are having to integrate new systems alongside their in-house legacy products, rather than enjoying the luxury of entirely replacing their systems with the latest vendor offerings. In another poll, better than 70 percent of participants said that wireless carriers are being held back by the capabilities of their current billing system:
Chris Barnard, research manager at
IDC
, concurs with our findings. "Most people in the industry accept that this is a problem and that it needs to be addressed," he explains. "Carriers know they have to do something but are being constrained financially. These systems are holding them back, but vendors are at least trying to offer solutions. As a result, carriers may not end up with the
best
solution, but at least it is
a
solution."
The poll results indicate there is still considerable work to be done from all parties involved in wireless data billing.
Unstrung
will be examining these challenges and taking an in-depth look at the latest vendor offerings in its
Billing for Wireless Data Services: System Developments
Webinar tomorrow (March 26), sponsored by
Portal Software Inc.
(Nasdaq: PRSF),
CSG Systems International Inc.
(Nasdaq: CSGS), and
TimesTen
.
— Justin Springham, Senior Editor, Europe,
Unstrung