Carrier VOIP system sales hit $452 million in the third quarter of this year, up a whopping 69 percent from the same period a year earlier, according to Infonetics Research Inc. (see Carrier VOIP Equipment Rises 69%).

The revenues also show a healthy rise from the $389 million recorded in the second quarter of this year, with new sales being generated from all territories, says Infonetics analyst Kevin Mitchell.

And as the VOIP service boom continues, those revenues will grow to approximately $4.8 billion in 2007 – about three times bigger than at present.

One of the niches showing the greatest growth is that for session border controllers (SBCs), which interconnect multiple IP networks and manage IP sessions across those networks.

While only generating revenues of $19 million in the third quarter, that was up from $13 million in the previous three months, and the Infonetics team expects SBC revenues to grow like crazy during the next few years, reaching more than $430 million per annum by 2007.

Mitchell says there was a particular surge in SBC sales in EMEA (Europe, Middle East, and Africa) in the third quarter, with 28 percent of all sales – or about $5 million – coming from that region.

As if to prove the trend, NexTone Communications Inc. announced a major deal with European incumbent operator KPN Telecom NV (NYSE: KPN) just last week (see NexTone Wins KPN Deal).

"The startup vendors have been working hard on their channel relationships in Europe, and that's been paying off," says the analyst, citing Acme Packet's relationships with Italian softswitch player Italtel SpA and Ericsson AB (Nasdaq: ERICY), as well as Kagoor Networks' sales deal with Siemens Communications Group, as prime examples (see Acme Packet Teams With Italtel and Siemens Resells Kagoor Controllers).

In the Class 5 softswitching market – which the Infonetics team predicts will outstrip the Class 4 softswitching sector in revenues some time in 2005 – Nortel Networks Ltd. (NYSE/Toronto: NT) generated almost half of the third quarter's $76 million revenues, making it a clear leader ahead of Siemens (see chart below).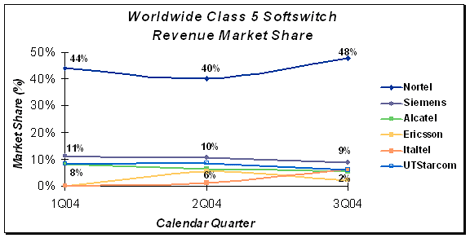 Mitchell says Nortel is doing particularly well from greenfield VOIP developments in the Asia/Pacific region, particularly in China, as well as in Latin America.

Another sector showing healthy growth is the voice applications server market, which is dominated by the leading IP Centrex players BroadSoft Inc., Sylantro Systems Corp., and VocalData Inc., which was recently acquired by Tekelec Inc. (Nasdaq: TKLC) (see Tekelec Connects With VocalData).

Other vendors showing strength in this niche include Ubiquity Software Corp. and NetCentrex SA, which is well entrenched with its hosted voice over broadband technology at Italy's triple-play service provider FastWeb SpA (see NetCentrex Claims VOIP Milestone ).

— Ray Le Maistre, International News Editor, Light Reading