As the third quarter draws to a close, folk looking to upcoming carrier financial reports for signs of an industry uptick are apt to be disappointed, experts say. Instead of longed-for improvement, the current quarter will likely be the weakest all year. What's more, some now say 2003 spending will drop beyond even this year's levels.

Over the past few weeks, consolidation and crises in the carrier space (see Qwest's Amazing Shrinking Revenues and WorldCom to Restate $2 Billion More? for recent examples) have led to adjustments in guidance from leading equipment and component makers -- adjustments that have thrown even the hardiest optimists.

Lucent Technologies Inc. (NYSE: LU), Nortel Networks Corp. (NYSE/Toronto: NT), Tellabs Inc. (Nasdaq: TLAB; Frankfurt: BTLA), JDS Uniphase Corp. (Nasdaq: JDSU; Toronto: JDU), and others continue to cut costs and forecasts, citing ongoing signs that their carrier customers are nowhere near ready to start buying vigorously again (see Lucent Drops Its Bottom, Nortel's Bottom Sags, JDS Uniphase Warns, Tellabs Lays Off, Warns, and Tellabs Looks to Europe).

It all points downward. "The third quarter will likely drop even further sequentially when it comes to spending," says analyst Steve Kamman of CIBC World Markets.

It's an ongoing trend. This year, all leading carriers, at least the ones still operating competitively, have progressively revised their projections downward.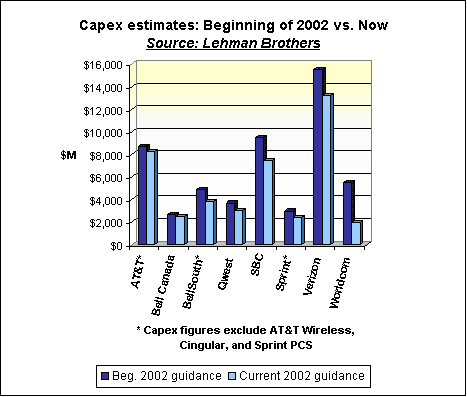 The negative spiral's likely to continue. For instance, one source familiar with the situation, who asked not to be named, says Verizon Communications Inc. (NYSE: VZ) plans to earmark about $7 billion next year for wireline spending, compared with about $10 billion this year.

This trend in the wrong direction was anticipated last November by the Optical Oracle, Light Reading's subscription monthly research service. In a report titled "Carrier Capital Spending: Past, Present, and Future," the Optical Oracle forecast showed that spending patterns for 2002 would decline by over 30 percent over those of 2001. Further, signs indicated at the time that capex would continue to decrease by about 10 percent annually through 2005. The Optical Oracle will be revisiting the capex question this year in a report to be published for subscribers this November.

Carrier spending is hampered by macroeconomic forces and underutilized facilities, including fiber capacity, according to Optical Oracle research analyst Christopher Bulkey. The next major growth opportunity for optical equipment makers won't materialize until carriers start upgrading their networks significantly, which will take several years, thanks to the overbuilding (and overspending) that occurred in 1999 and 2000.

Other, more recent, analyses show this thesis hasn't changed that much in recent months. Steven Levy of Lehman Brothers, whose outlook has been rosier than that of many other analysts, says he's ready to concede that growth will take longer than he thought.

"Disappointing news out of bellwether telecom equipment companies heavily leveraged to North American spending.... certainly indicates that carrier spending remains under severe pressure and equipment company revenues are likely to materially decline (10% to 25%) sequentially in CY3Q," he writes in a note published September 20. "A number of assumptions we previously made do not appear to be holding, and we have consequently taken a noticeably more cautious stance on North American service provider capex."

Specifically, Levy says that third-quarter carrier spending is likely to drop below second-quarter levels. And while the fourth quarter may show a slight seasonal uptick, "as carriers flush out some of the remaining budget but not all of it," Levy says the rise "might not be meaningful enough to change our view that 2003 spending trends are getting increasingly uncertain."

A lack of confidence about 2003 also pervades the outlook of CIBC's Kamman, although he thinks this year's drastic drop won't be repeated. "Capex dropped 45 percent in 2002," he says. "We think 2003 will drop another 10 to 15 percent beyond 2002."

While all leading carriers have numerous requests for proposal and information pending, Kamman says the aggregate level of new buying activity probably won't be enough to increase overall spending levels next year.

— Mary Jander, Senior Editor, Light Reading
www.lightreading.com

Editor's Note: Light Reading is not affiliated with Oracle Corporation.