As the telecom downturn wears on, anxious investors demand to know: Will things get better in 2003? For the answer, many are looking to trends in carrier capital spending.

According to "Capital Spending Update," the latest report from Optical Oracle, Light Reading's subscription service, cuts in capex will continue in 2003 but will not be as steep as those in 2002. There are signs of improvement, as well as warning indicators. Carriers also have picked the spots where they're likely to spend in the near term.

To start at the top: The spending decline predicted in last November's Optical Oracle has proven conservative (see Optical Oracle: More Carrier Cutbacks ). Instead of the 35 percent that report forecast, capex is down 44 percent for the first three quarters of 2002. What's more, this figure includes only the eight carriers that remain of the 11 tracked in last year's report. Not only are individual companies' reductions part of the trend, but consolidation is shrinking the available pool for capital spending.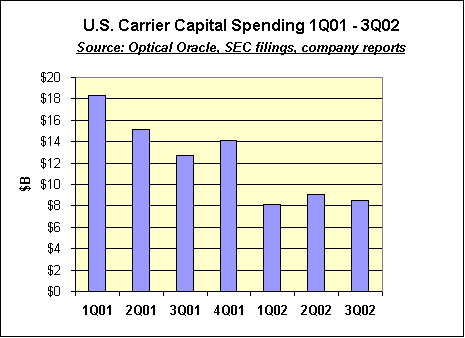 In one respect, the above trend is positive. During the bubble years 1999 through 2001, carrier captial spending accounted for more than 80 percent of incoming revenues -- unsustainable levels. Historically, capex has been under 20 percent of revenues, and it's been a slow and painful process to bring spending back in line with that norm. Now the excess has been removed, but the Optical Oracle report cautions against drawing hasty conclusions. It would be nice to see the ratio of capex to revenue stabilize and gradually increase in coming quarters (as long as the increase is achieved by higher capital spending and not lower revenues).

As the capsized capex boat gets righted, some carriers are revealed as worse off than others. The WorldCom Inc. (OTC: WCOEQ) bankruptcy story has proven that incumbent status doesn't guarantee long-term viability. AT&T Corp. (NYSE: T) and Sprint Corp. (NYSE: FON) are still on shaky ground, while Broadwing Inc. (NYSE: BRW), Level 3 Communications Inc. (Nasdaq: LVLT), and Qwest Communications International Inc. (NYSE: Q) are clearly distressed.

Still, the report's analysis reveals that three of the ex-RBOCs -- BellSouth Corp. (NYSE: BLS), SBC Communications Inc. (NYSE: SBC), and Verizon Communications Inc. (NYSE: VZ) -- appear to be managing their significant debt levels better than other carriers. Leverage is high, but cash balances are adequate and cash flow has been consistently positive.

But there's still the chance for another leg down in the washout. Carriers that filed for bankruptcy this year -- 360networks Inc. and Williams (now WilTel Communications Group Inc.), for example -- appear to be emerging from Chapter 11, ready to compete aggressively on price in areas such as dedicated IP and wholesale transport services, where excess capacity is greatest. If a predatory pricing environment is prolonged, recovery will be delayed. A second shakeout will likely occur, resulting in more bankruptcies.

Despite these dire possibilities and the ongoing dramatic decline in capex, the billions being spent by the remaining IXCs and RBOCs are going somewhere; and the remaining, solvent carriers will have budgets for new deployments.

In a detailed, carrier-by-carrier, vendor-by-vendor listing of current RFP activity, the Optical Oracle concludes that next-generation Sonet equipment, ATM multiservice gear, and operations support systems (OSS) software are likely to continue to attract investment, albeit on a reduced scale.

Voice over IP, access other than DSL, and optical switching have been relegated to the back burner.

— Mary Jander, Senior Editor, Light Reading
www.lightreading.com The current Optical Oracle report, "Capital Spending Update," is available here. A single-user license to the report is $400. Annual single-user subscriptions to the Optical Oracle, which include access to the entire archives, the current report, and each of the monthly reportes issued over the next 12 months, is available for $1,250 per year.

Want to know more? The big cheeses of the optical networking industry will be discussing carrier capex plans at Lightspeed Europe. Check it out at Lightspeed Europe 02.

Editor's Note: Light Reading is not affiliated with Oracle Corporation.