Broadband has been a big topic at the Light Reading Live Asia/Pacific roadshow that's been touring China and South Korea in the past couple of weeks. Some participants think it's the key to future success of the telecom market, as is being demonstrated by carriers in South Korea.

While most of the world's carriers are struggling to find a way of replacing falling telephony receipts, South Korean carriers have already made the transition. And these new services are providing desperately needed boosts in revenue.

Overall, 40 percent of telecom revenues in South Korea now come from broadband, almost as much as comes from telephony, says Claudio Coltro, senior director, business development, for the optical networks division of Alcatel SA (NYSE: ALA; Paris: CGEP:PA) in the Asia/Pacific.

Coltro says his figures are "very approximate" and are based on "word of mouth" -- his discussions with carriers in the region. They cover China as well as South Korea and illustrate two ends of the spectrum in terms of market maturity.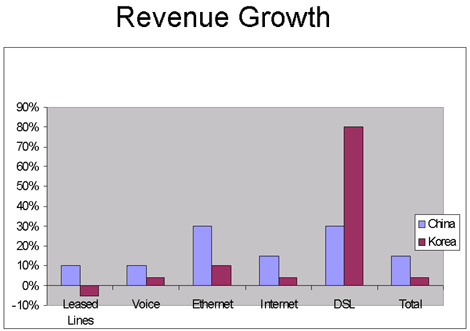 South Korea, which has a population of about 40 million, already generates annual telecom revenues totaling $12 billion, and many markets now appear saturated. The growth of voice and Internet revenues now only matches the country's GDP growth of four percent, and Korea's leased-line business is shrinking by five percent a year, according to Coltro. DSL revenues, however, are growing at a crackling 80 percent a year.

In contrast, China's overall telecom revenues are continuing to grow at a fast pace -- 15 percent, which is nearly twice the country's GDP growth of 8.5 percent. Right now, its telecom revenues total $28 billion -- just over twice Korea's -- and yet China has 30 times the population, 1.2 billion. In other words, there's plenty of potential for continuing high levels of growth.

In China, broadband revenues are growing at a healthy pace -- 30 percent a year -- but only represent 5 percent of total revenues, according to Coltro. Likewise, Ethernet service revenues are growing at 30 percent a year, from a small base of just 2 percent of total revenues.


Coltro says voice revenues are continuing to grow in China, but this is refuted by one of the country's big equipment vendors, ZTE Corp.

Mingfeng Ding, ZTE's vice president of international operations, says Chinese wireline carriers face the same problems as operators in other parts of the world. Their revenues are shrinking as more people use mobile phones. This comes in spite of the fact that Chinese carriers continue to install more than 30 million telephone lines a year. In general, he adds, these lines serve people who can't afford to rack up significant phone bills.

Voice services in China represent 70 percent of revenues, but this has shrunk to 50 percent in Korea. Much of the boost in Korean broadband revenues has been driven by the country's craze for online games.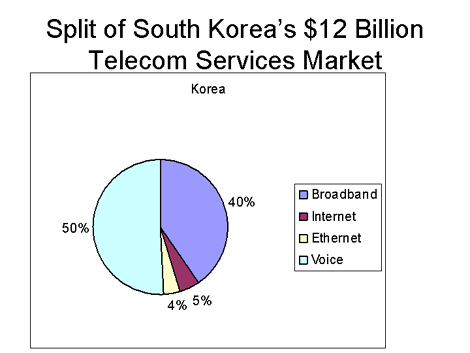 — Peter Heywood, Founding Editor, Light Reading