As OSS deals go, this one's a whopper. BT Group plc (NYSE: BTY; London: BTA) has awarded British inventory-management system vendor Cramer Systems Ltd. a contract reportedly worth more than $10 million (see Cramer Signs Big Deal for BT'S 21CN).

The decision had been made some time back that Cramer's software would be part of the back-office systems underpinning BT's next-generation network, dubbed 21CN (see BT Moves Ahead With Mega Project, Cramer Meets BT's Speed Needs, and LogicaCMG Integrates OSS at BT).

To get the full lowdown on the 21CN, check out the forthcoming SuperWebinar on the topic.

Now the two parties have agreed the commercial terms that will see BT license Cramer's software and deploy upgrades when they're available and suitable. This simplifies the relationship, and means the two parties don't have to negotiate each time an upgrade is required, says the vendor's director of corporate communications Robert Curran.

The news comes as Cramer is lining itself up for an IPO, and will strengthen its financial hand further (see Cramer Preps an IPO). Curran also claims that another as yet unidentified European Tier 1 operator has signed a similar deal.

The deal is larger than the average OSS contract, which analysts at OSS Observer say usually amount to a few hundred thousand dollars. This is because it covers more than a single service or part of the network. Traditionally, separate carrier networks have been built for different services, and each has had a different set of OSSs that haven't talked to each other.

BT's 21CN, though, is designed as a single network that will manage and deliver all voice, video, and data services -- the much talked about "converged" network (see Telecom Superstore). And for that, BT has decided to run with a small number of core software providers that will supply "enterprise wide" systems, and Cramer's system is at the heart of that setup (see picture below).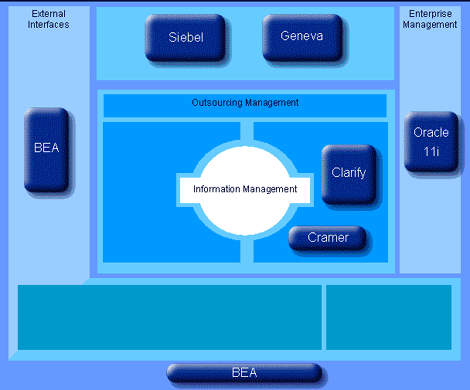 The other key software suppliers are: Amdocs Ltd. (NYSE: DOX) for its Clarify platform; BEA Systems Inc. (Nasdaq: BEAS) for its middleware; Convergys Corp. (NYSE: CVG) for its Geneva billing system; Oracle Corp. (Nasdaq: ORCL) for enterprise management functions; and Siebel Systems Inc. (Nasdaq: SEBL) for its customer-facing CRM system (see BT Pins Down OSS Deals).

These major suppliers will also be supplemented by a number of other OSS firms, such as Quallaby Corp., Staffware plc (London: STW), and Telcordia Technologies Inc.

BT's view is that to achieve proper convergence, it needs commercial software, not systems developed inhouse, that can remove the old barriers that currently exist between the different domains, or silos as they are often called.

This is the way the industry is heading, believes Mark Basham at OSS Observer, and as carriers opt for a smaller number of players to deliver wide-ranging functionality, so they'll win more lucrative deals.

That process, according to the OSS Observer team, will fatten up firms such as Cramer and leave the remaining OSS players, of which there are still hundreds, fighting for the scraps, and ultimately lead to greater industry consolidation (see OSS Sector Shows Signs of Life).

— Ray Le Maistre, International News Editor, Light Reading


---
For more on this topic, check out: