Shares of Foundry Networks Inc. (Nasdaq: FDRY) rebounded this morning as the deal with Brocade Communications Systems Inc. (Nasdaq: BRCD) got repriced last night to $2.6 billion from $3 billion.

A drop in price might not seem like good news for Foundry, but Foundry's sudden climb -- up $2.14 (16%) to $15.14 at midday -- suggests that investors were worried the deal would collapse entirely.

Brocade's stock was up 21 cents (6%) at $3.74.

On Oct. 24, Foundry postponed the meeing where shareholders were set to vote on the deal. Foundry shares dropped 24 percent that day. (See Foundry Tanks on Merger Holdup.)

Foundry said the delay had something to do with recent events, and the drop in Brocade's stock price would seem a reasonable culprit. Brocade shares closed Oct. 23 at $2.85 -- down 66 percent from July 21, when the Foundry deal was announced.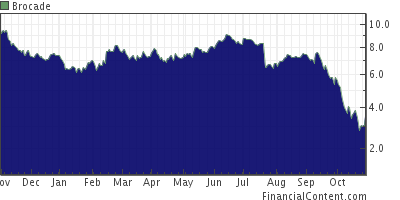 The new terms have Brocade paying $16.50 per share for Foundry -- a 14 percent drop, and less than the stock's Oct. 23 closing price of $17.04. (See Brocade/Foundry Price Lowered.)

One problem, according to analysts, was that Brocade hadn't wrapped up all the financing for the deal. The company had at least cleared the hurdle of getting a $1.2 billion credit facility with Bank of America; analysts attending a Brocade event in September had seemed concerned about that money coming through. (See Brocade Secures Credit and Brocade/Foundry Readies Ethernet Invasion.)

The new date for Foundry's shareholder meeting was supposed to be yesterday, but the companies need more time to pound out the new paperwork. The meeting has now been pushed back to the afternoon of Nov. 7.

— Craig Matsumoto, West Coast Editor, Light Reading