Brightlink Works on Its Grooming
It's all in the grooming
Over the past few months,
Ciena Corp.
(Nasdaq: CIEN) has emerged as a front runner in the optical switch market largely because its CoreDirector is capable of grooming. That means it can set up any size of pipe across a network by combining any number of small STS1 (51.8 Mbit/s) connections, ranging in size from one to 192, and that's turned out to be a hot button for a lot of service providers.
Brightlink Networks Inc.
reckons that it can give Ciena a run for its money. It's developed an optical switch that also grooms any number of STS1s and could scale to a larger size than Ciena's CoreDirector.
"Could," however, is the key word. The first release of Brightlink's BOSS 1000 optical switch, details of which have been revealed exclusively to
Light Reading
, only scales up to 64x64 ports, less than the 256x256-port switch that Ciena is already shipping. Moreover, the first release only boasts OC48 (2.5 Gbit/s) interfaces, with OC192 (10 Gbit/s) interfaces to follow.
Brightlink, however, claims it's got an ace up its sleeve -- a distributed switching fabric. This means it can make larger and larger switches by linking together more boxes, and the silicon it needs to do this is nothing special. The startup expects to ship a 1024x1024-port switch later this year, and it could go a lot further, to 4096x4096 ports and beyond.
Ciena's CoreDirector, on the other hand, has a centralized switching fabric based on state-of-the-art ASIC (application-specific integrated circuit) technology. Boosting its capacity beyond 512x512 presents quite a challenge.
All the same, it isn't going to be easy for Brightlink to convince carriers to try its technology, even if it does have advantages.
Sycamore Networks Inc.
(Nasdaq: SCMR) hopes to start shipping a large STS1 grooming switch this spring. And rumor has it that
Cisco Systems Inc.
(Nasdaq: CSCO) is also about to join the race with a CoreDirector lookalike.
Why groom?
All of this begs the question: What's so cool about granular grooming? The simple answer is that it slashes the number of boxes that service providers need to buy and maintain; it also helps them provision services faster and use bandwidth efficiently.
The best way of understanding this is to look at a typical point of presence (POP).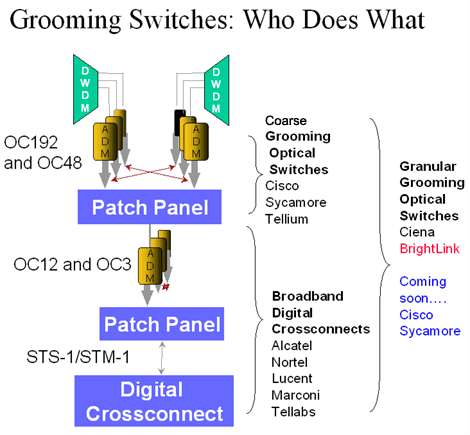 Right now, most of the services offered by carriers use relatively small bandwidths which are aggregated into STS1 or STM1 (155 Mbit/s) channels for transport over Sonet infrastructure.
Traditionally, service providers combine three STS1 channels into an OC3 (155 Mbit/s) channel, then combine four OC3 channels into an OC12 (622 Mbit/s), then combine four OC12 channels into an OC48, often using a hierarchy of separate add-drop multiplexers. The multiplexers are interconnected using patch-panels.
Vendors have been coming up with ways of consolidating this so-called "multiplexer mountain" into fewer boxes.
One bunch of players has focused on broadband digital crossconnects -- combining the functions of crossconnects, patch-panels and add-drop muxes and handling STS1s, OC3s, and OC12s. Leading vendors in this space include
Alcatel Optronics
(Nasdaq: ALAO; Paris: CGO.PA),
Lucent Technologies Inc.
(NYSE: LU),
Marconi Communications PLC
(Nasdaq/London: MONI),
Nortel Networks Corp.
(NYSE/Toronto: NT), and
Tellabs Inc.
(Nasdaq: TLAB; Frankfurt: BTLA).
Another group of vendors has been combining higher bandwidth (OC48) add-drop-muxes and patch panels, with the primary goal of speeding up provisioning with the use of centralized management systems. The players in this field include Cisco, with its ONS 15900 Wavelength Router (coming from its acquisition of Monterey); Sycamore, with its SN16000; and
Tellium Inc.
, with its Aurora family of switches.
Finally, there's Ciena, whose CoreDirector spans both these vendor groups and aims to consolidate everything into a single box. It can combine any number of STS1s and can bind them together so that they act as though they were a single pipe.
Such "concatenated" interfaces are essential in router networks, so that bandwidth can carry bursts of packets efficiently. With Ciena's CoreDirector, concatenated groups of STS1s don't have to be in adjoining time-slots in Sonet frames, which enables carriers to pack wavelengths more efficiently.
Switching fabric
Ciena -- or rather, Lightera, the startup the company acquired in order to get its hands on the CoreDirector -- laid the foundations for doing this a couple of years ago, according to Joe Berthold, Ciena's VP of network architecture. There was no off-the-shelf silicon that could support STS1 grooming at the time, so Lightera decided to develop its own. It hired away a complete team of ASIC designers from Cisco, the same team that had developed the ASICs used in Stratacom's ATM switches.
Other vendors -- Monterey, Sycamore, Tellium -- went with off-the-shelf ASICs for their switching fabric. As a result, they weren't able to switch small STS1 pipes -- their equipment switches OC48s.
Sycamore, it has to be said, has long presented the SN 16000 as an STS1 grooming switch, although its grooming capabilities are being added in stages. "The first version that we shipped was focused on non-grooming, due to initial customer demand and availability of commercial ASIC technology," says Rick Thompson, a Sycamore product marketing manager. Sycamore started shipping a 64x64 grooming switch last October, and plans to start shipping bigger versions -- up to 512x512 -- this spring.
"We can groom at any rate and at any mixture [of STS1s] and we've been doing this since last October," says Thompson. In other words, Sycamore matches Ciena in being able to combine any number of STS1s, from one to 192. It also offers the same ways of concatenating payloads, Thompson says, adding that it can handle non-American SDH payloads as well, unlike competing switches.
The arrival of bigger off-the-shelf switching ASICs appears to be behind these developments. It's probably also behind Cisco's rumored development of a big grooming switch. And it's a fair bet that Tellium has something similar in the works.
All of these vendors appear to be using similar switching fabric architecture, so-called 3-stage Clos, which could limit their scaleability. The bigger the switch, the more complex the ASICs need to be, and the more complex the ASICs are, the harder they are to make. Making ASICs for a 512x512-port switch would push the limits of today's technology, according to Gary Law, Brightlink's VP of marketing.
In contrast, Brightlink's distributed architecture switch is based on a relatively simple chip -- made using 0.25 micron process technology -- that has 600 pins and fewer than 2 million gates. "That's by no means state-of-the-art technology," says Law.
The chips operate like miniature routers and are arranged in a meshed hierarchy. Each chip can forward packets to four output ports or another chip, and there are four chips on a card and four cards in a chassis. That adds up to the 64x64-port first version of the switch.
Later on, Brightlink will introduce "optical expansion modules" that link together four chassis in a rack to make a 256x256 switch, and link together four racks in a bay to make a 1024x1024 switch.
A number of terabit router startups -- notably
Avici Systems Inc.
(Nasdaq: AVCI; Frankfurt: BVC7),
Hyperchip Inc.
, and
Pluris Inc.
-- are using similar distributed architectures, Law notes.
Brightlink's switch, in fact, is a miniature router network in a box (or several boxes). That explains why it's likely to be particularly scaleable, flexible, and resilient; but a question remains: How does Brightlink deal with the possibility of congestion?
Law says that's what lies at the heart of Brightlink's technology -- a routing algorithm that keeps everything running like clockwork. It results in average delays through the switch of 13 microseconds -- far less than the 125-microsecond Sonet frame size, according to Law. He says that Brightlink has been running computer simulations of its switch since April 1999 to prove this. Its 64x64 prototype has also been operating in its lab for some time. "We've run it for days, with zero bit-error rate."
Convincing carriers to give it a try is going to be difficult, however, largely because Brightlink is going head to head with such heavyweight vendors. Ciena, Cisco, and Sycamore already have strong relationships with service providers and are much more likely to still be around in a few years' time.
Brightlink also pulls a lot less weight with component vendors, as it's already discovered to its cost. It's been waiting for more than a year for the VCSEL arrays it needs to connect chassis together to make bigger switches.
During this period, Sycamore successfully jumped the queue, getting VCSEL arrays ahead of Brightlink from one of its suppliers,
Infineon Technologies AG
(NYSE/Frankfurt: IFX). Infineon makes no bones about it, saying that Sycamore is a much bigger potential customer so it got served first.
Brightlink's best way forward may be to find a buyer. Tellabs might be just the job.
-- Peter Heywood, international editor,
Light Reading
http://www.lightreading.com
EDUCATIONAL RESOURCES


PARTNER PERSPECTIVES
- content from our sponsors